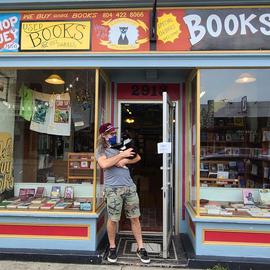 Ward Tefft with WonTon
Used bookstore Chop Suey Books, Richmond, Va., has changed hands, as founder Ward Tefft sold the store to longtime customers Berkley and Chris McDaniel, the Richmond Times-Dispatch reported. While the building, which Tefft owns, is not part of the sale, store cat WonTon is included.
WonTon has been a resident of Chop Suey Books since 2008 and is depicted in some of the murals in the store.