Her position as a former bookseller and now an integral part of an indie press made Cristina Rodriguez the ideal moderator for MPIBA FallCon's Indies for Indies Lunch and Working with Indie Presses panel.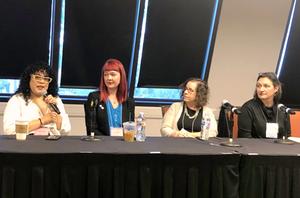 Pictured: (l.-r.): Cristina Rodriguez, Terrie Akers, Kalen Landow, Anna Hjortsberg.
It was a roll-up-your-sleeves discussion about being mindful of using one's book budgets to support independent presses, how to merchandise indie titles to secure sales, and how to connect indie booksellers with indie presses in meaningful ways.
Rodriguez, formerly the manager and buyer at Deep Vellum Bookstore, Dallas, Tex., and now marketing and sales director at A Public Space (as well as an MPIBA board member), asked some basic questions: If you want to make this your career, how do you do that in a sustainable way? How do you represent authors of color? How are you supporting indie presses; where do you spend your dollars? As a bookseller, Rodriguez asked small presses for their "Top 25" to help her merchandise them in the store. Kalen Landow, sales director at Microcosm Publishing (which has had great success with Danny Caine's How to Resist Amazon and Why), keeps Microcosm's "Top 100 Sellers" on Edelweiss for easy reference.
Anna Hjortsberg, manager of Country Bookshelf in Bozeman, Mont., said she taps her PGW and Consortium sales reps to find out what's coming from smaller presses. She'll place a "Meet Grove Press" or "Meet Tin House" display next to her New York Times bestsellers table, to bring these publishers to the attention of customers. Landow noted that WORD Bookstore in Brooklyn, N.Y., merchandises Microcosm books next to zines and greeting cards; she also emphasized that zines should be displayed face-out to minimize damage through slippage. Terrie Akers, marketing director of Other Press, returns the favor to supportive indie booksellers with a New York Times ad featuring quotes from independents about new titles. Hjortsberg, anticipating supply-chain issues this holiday season, is creating a list of great indie gift books as alternatives to the Big Five publishers' titles; one of her favorites is Ben Hopkins's Cathedral (Europa Editions), newly released in paperback.
Hjortsberg stressed the importance of getting indie ARCs in "the right hands," since the store has greatly scaled back author events from the "before times" (pre-pandemic) and these books often require handselling. Akers noted that Kelly Justice, owner of Fountain Books in Richmond, Va., has a dedicated place in her galley room for indie ARCs and encourages staff to take them; Akers also urged booksellers (a number of times) to contact her directly.
Rodriguez, with Jisu Kim at Feminist Press, hosts a "Galley Club," for which they send out indie ARCs and invite the author and editor to discuss the book with booksellers. As a perk, Rodriguez added, "Then you'll know other booksellers when you get to Winter Institute."
Akers also invited booksellers to expand their networks internationally. The brainchild of Michael Reynolds, editor-in-chief of Europa Editions, Books Across Borders (formerly Bookselling Without Borders) offers a fellowship for booksellers to attend international book fairs (past fairs include Frankfurt, Turin, Istanbul, Bologna and Jaipur). The registration period will open at Winter Institute in Cincinnati, Ohio, in February.
In her parting words, Rodriguez reminded attendees, "Think thoughtfully of what you're carrying and what you're buying." --Jennifer M. Brown