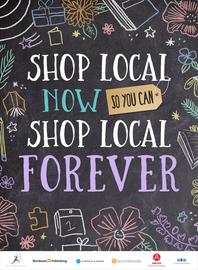 Workman Publishing, Abrams Books, Bloomsbury Publishing, Candlewick Press, Chronicle Books and Sourcebooks have teamed up for the second Shop Local FOREVER marketing campaign, which encourages consumers to buy local during the holiday season and beyond.
This year more than 30 authors will participate by posting on social media about what independent bookstores mean to them and why it's important to shop local. Participating authors include Jeff Kinney, John Lithgow, Kelly Barnhill and Henry Winkler; the full list of authors can be found here.
Resources are available for indie bookstores, including 11" x 15" inch signage featuring the message "Shop Local NOW So You can Shop Local FOREVER," as well as publisher swag that stores can give to customers as gifts. There is an Edelweiss collection featuring titles by participating authors, and booksellers can use the hashtag #ShopLocalFOREVER to help spread the message.
In its inaugural year, the campaign saw more than 15 Workman authors and 270 bookstores participate.