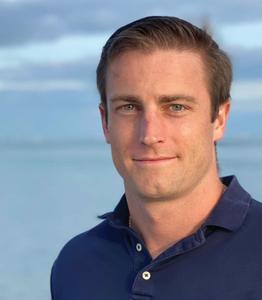 Thomas "Buddy" Bardenwerper is the author of Mona Passage (Syracuse University Press, November 15, 2021), a novel of about a Cuban émigré and his attempt to reunite with his sister. Bardenwerper served five years in the U.S. Coast Guard, participating in humanitarian and law enforcement missions from the Gulf of Maine to the Caribbean Basin. After being medically retired for type 1 diabetes in 2018, Bardenwerper began a joint degree program at Harvard Law School and the Harvard Kennedy School of Government. Upon graduating this spring, Bardenwerper will be moving to Miami with his wife and daughter.
On your nightstand now:
I just started The Caine Mutiny by Herman Wouk. I'm only a few chapters in, but I can already tell that this is a case where the book is better than the movie--and the movie was a classic!
I also recently polished off The Year of Dangerous Days by Nicholas Griffin and The Corporation by T.J. English. Since my family and I will be moving to Miami, I'm trying to immerse myself in South Florida history.
Oh, and as parents of a baby girl, my wife and I have memorized Where Is the Green Sheep? by Mem Fox and Judy Horacek, Moo, Baa, La La La! by Sandra Boynton and Give Me Grace by Cynthia Rylant.
Favorite book when you were a child:
I loved the The King's Stilts by Dr. Seuss. The dastardly nizzards! The lazy patrol cats! The nefarious Lord Droon! How Dr. Seuss packed that much drama and humor into 20 pages is beyond me.
When I was older, my sister gave me The Power of One by Bryce Courtenay. I read it at the perfect age, as I was young enough to still have my wonder and imagination but old enough to appreciate emotion, struggle and relationships. And, like Peekay, I had recently fallen in love with the sport of boxing.
Your top five authors:
J.K. Rowling--more on her below!
Gabriel García Márquez. The first fiction I ever read and thought, "Wow, this is the work of a genius," was No One Writes to the Colonel.
Tom Wolfe. Bonfire of the Vanities and A Man in Full were both tremendous social commentaries, and I don't think there is another author who can make me laugh the way Wolfe can. I also respect how Wolfe did things his way even when the titans of literature did not approve.
Mario Vargas Llosa. I found The Feast of the Goat to be quite powerful, especially after having written my college thesis about that monster Rafael Trujillo. Also, Vargas Llosa's Notes on the Death of Culture had me underlining passages, not something I normally do when reading for pleasure!
Alex Haley. Not a lot of people know that Haley was a Coastie. He started out during World War II writing love letters on behalf of his shipmates and later on became the Coast Guard's first "Chief Journalist," a position created entirely for him!
Book you've faked reading:
Roberto Bolaño's 2666 defeated me--I hit a wall with the third storyline. However, my brother-in-law is a huge Bolaño fan, so I may have to take another crack at it to earn his respect!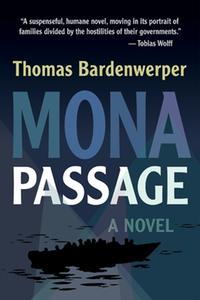 Book you're an evangelist for:
The Prisoner in His Palace by my older brother Will Bardenwerper. This is the true and remarkable story of the 12 American military policemen who guarded Saddam Hussein during the months before his execution.
All four of my older siblings have been role models for me, but Will has been particularly instrumental in guiding me along the path that has led to Mona Passage. Will's decision to join the Army in the wake of 9/11 inspired me to join the Coast Guard, and his decision to walk away from a secure job to write The Prisoner in His Palace inspired me to tell the story of Galán, Gabriela and Pat.
Book you've bought for the cover:
Avenue of Mysteries by John Irving. The large image of the Virgin of Guadalupe wearing sunglasses against a bright yellow background immediately grabbed me at a bookstore in Key West.
Book you hid from your parents:
I'm blessed to come from a family that values reading and the free exchange of ideas, so I've never had to hide a book. That said, I don't think my parents would've loved Ignatius J. Reilly, the protagonist in John Kennedy Toole's A Confederacy of Dunces.
Book that changed your life:
That's a pretty high bar! I will say that Lilli de Jong by Janet Benton--which I read while my wife was pregnant--gave me an insight into the relationship between a mother and her baby. I would like to think that this helped me be a better father and husband, but you would have to ask my wife!
Favorite line from a book:
That's a tough one. However, the following line from The Caine Mutiny recently struck me. The protagonist, Willy Keith, is on the verge of graduating from Naval training and heading off to the war when he receives a visit from his ailing father. As the older man departs, Herman Wouk writes: "Willie looked after the limping figure, and vaguely thought that he ought to have talked more with his father before the war."
Five books you'll never part with:
A Sailor's Odyssey by Alvin Chester, a Naval officer who commanded my late grandfather's destroyer escort during World War II. My grandfather was a voracious reader and annotated all his books. When I read his marked-up copy shortly after joining the Coast Guard--and several years after his passing--I felt like I was having a conversation with him.
Prep by Curtis Sittenfeld. Before she became famous, Curtis was my high school English teacher. It wasn't until I read her poignant debut novel that I realized that you could be both a normal person like Curtis and a successful writer. Without this seemingly obvious insight, I'm not sure I would have had the confidence to try to write Mona Passage.
Old School by Tobias Wolff. Little did I know when I read this coming-of-age story that Tobias Wolff would judge the inaugural Veterans Writing Award hosted by Syracuse University Press. Had it not been for Wolff believing in Mona Passage, we would not be having this conversation today.
Captain Pantoja and the Special Service by Mario Vargas Llosa. A beloved mentor of mine gave me a copy in the original Spanish, and I've slowly been working my way through it. I'll definitely have to read the English translation at some point to pick up on the story's more subtle elements.
Matterhorn by Karl Marlantes. I read this engrossing novel about a young infantry officer in Vietnam during one of my Coast Guard patrols deep into the Caribbean. I probably learned more from Marlantes than I did at Officer Candidate School!
Book you most want to read again for the first time:
Any of the Harry Potter installments. The Deathly Hallows came out the summer before my senior year of high school when I was on a school-sponsored trip to Glasgow, Scotland, with one of my best friends. Mind you, the drinking age in Scotland was 18, and we had zero adult supervision. So you would think that these two American football players would be running wild from pub to pub. Nope! Instead, we were reading the last chapters of The Deathly Hallows out loud to each other in our dorm room. If that isn't proof of J.K. Rowling's genius, I don't know what is.