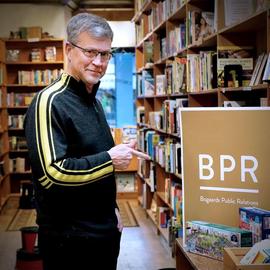 Paul Bogaards
Paul Bogaards, longtime publicity head at Knopf who retired earlier this year, has set up a new company, Bogaards Public Relations LLC, which is launching today. Stephanie Kloss, who for 17 years ran the advertising and marketing department at Knopf and worked with Bogaards on many book campaigns, is joining the venture as a partner.
In an announcement about the firm, Bogaards called BPR's business model "a little different--we're a long runway business, not a quick fix shop. If you are looking for someone to book a tour--that's not us. Think of us as project managers--with you, your work, or your company as the project. Our mission is to help writers broaden their readership through careful analysis of their work and by developing long arc campaigns for their books and identities. Also to note: we are selective about the clients we take on. Much of trade publishing exists as a volume enterprise--our business does not (a former colleague suggested our motto should be 'Little, but Loud')."
Noting that his management responsibilities in recent years kept him from the part of the job he enjoyed most, Bogaards wrote, "I have always loved the architecture of title publishing. Taking the work of a writer, helping to identify an audience for it, and then figuring out a way to access said readership. Title work requires creativity and savvy and a measure of grit. With the launch of BPR, I'll be able to help authors in both a granular and a big picture way once again.
"It has also been a dream of mine to help companies beyond Penguin Random House, and now I'm in a position to do so. BPR will launch with one company already on the roster, and we will be adding select businesses to our portfolio of clients in the months to come."
Among BPR clients are:
Robert Caro ("Bob and I have been working together for three decades. I am delighted to continue our association.")
The Joan Didion Estate ("I had the great fortune of working with Joan Didion for over two decades... Our job at BPR will be to assist in keeping her work front and center with readers.")
Clémence Michallon, whose debut thriller, The Quiet Tenant, will be published by Knopf in Spring 2023.
Dani Shapiro, whose next book, Signal Fires, will be published by Knopf in October.
Tertulia, a company that aims "to change the way readers come to books. Tertulia has been working to solve the riddle of book discovery, using data and technology to capture word-of-mouth book talk."
In classic Bogaards style, he added that "stepping away from a good job at a great company and the security attendant with it after three-plus decades is a leap for sure. I can, however, pinpoint the moment when I knew it was time for a change: the day I was scheduled to attend a meeting about meetings (um, no thanks)."
And for anyone who misses his edgy commentary on the business, Bogaards will be writing a publishing newsletter on Substack--"a celebration of our genteel profession, with possibly a few takes that will make industry execs uncomfortable."