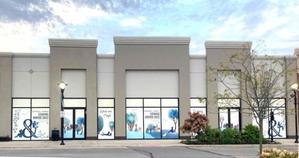 Barnes & Noble will open a bookstore in Deerfield Township, Ohio, near Cincinnati, next Wednesday, January 19. Located in the Deerfield Towne Center, the store replaces the B&N in the Waterstone Center that closed last August 22.
Emphasizing that, under CEO James Daunt, B&N booksellers have leeway in adapting stores to the local market, B&N said that the Deerfield Township store offers "a robust selection of lifestyle books, including cookbooks and self-care, as well as a fantastic children's section. There are also large book rooms devoted to mystery & thriller books, Young Adult titles and manga, all of which continue to grow in popularity. New fiction and nonfiction hardcovers, the core strengths of Barnes & Noble, will also be front-and-center at the store." The store also has a café and is located next to Whole Foods.
Amy Fitzgerald, who heads bookselling at B&N, said, "This is an avid community of readers, and we are delighted to bring their bookstore back to them. Store manager Jordan Walls and his team have created a beautiful new store here and we all look forward to welcoming customers, old and new."
Walls added, "We missed our customers dearly, and are excited to reunite with them. I have been with Barnes & Noble for almost 20 years, and I have a fantastic team of experienced booksellers ready to welcome customers, old and new, and to help them discover their next great read. The new store is so much brighter, with a wonderful selection of books and an updated gift department of which we are very proud."