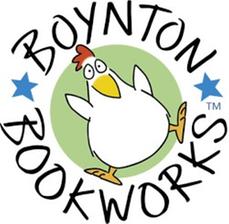 Simon & Schuster has launched Boynton Bookworks, an imprint devoted to the past and future works of American cartoonist, children's author and songwriter/producer Sandra Boynton. The imprint will bring Boynton's considerable backlist under one roof for the first time.
"Sandy's work is deceptively simple and utterly original," said Jon Anderson, president and publisher of S&S Children's Publishing. "Boynton Bookworks will be a showcase for her singular genius (she'll hate my using that word, but it's true!) and is the obvious next step in her remarkable career."
Kelli Chipponeri (formerly of Chronicle Books) is the publishing director of Boynton Bookworks, while Mike Vago (recently of Workman Publishing) is design director. Jeffrey Salane, v-p and editorial director of Little Simon, continues as Boynton's editor.
"And I'll be in the Picard role," said Boynton. "I get to set an improbable course and say 'Make it so.' Then the supremely competent crew takes it from there. I'm so stunned and grateful that Jon is giving me this wild opportunity."

Along with becoming the new home for Boynton's entire Little Simon backlist, Boynton Bookworks will publish its inaugural list in Fall 2022, including two new board books--Pookie's Thanksgiving and Moo, Baa, Fa La La La La!--as well as a deluxe picture book edition of Boynton's Hippos Go Berserk!, first published in 1977 and in print ever since. Boynton has completely redrawn and redesigned Hippos Go Berserk! for the Boynton Bookworks launch.
In addition, beginning in Fall 2022, the new imprint will welcome all of Boynton's previously published titles, including new editions of 22 Boynton books and six songbook/CDs.