Social media was buzzing Saturday with #IndependentBookstoreDay excitement. As the day came to an end, many posts from indie booksellers expressed gratitude and joy--not to mention the best sort of exhaustion--regarding the festivities. Here's a sampling:
Exile in Bookville, Chicago, Ill.: "We cannot possibly express our gratitude to each and every one of you for making our one year anniversary so damn wonderful. Thank you for supporting independent bookstores. How does this much happiness exist? We raise multiple bottles of champagne to you all!"
Tubby & Coo's Mid-City Book Shop, New Orleans, La.: "We had our best Indie Bookstore Day of all time, thanks to all of YOU! Thank you SO SO much for supporting us, we love you all and are EXTREMELY EXCITED to throw books at all of you again!"
Novel Bay Booksellers, Sturgeon Bay, Wis.: "Makes our hearts sing! Thanks to everyone who is dodging raindrops and puddles to visit indie bookstores today."
City Lit Books, Chicago, Ill.: "This little City Lit crew is *bursting* with gratitude for all of our amazing customers today (and everyday)! Thank you for making IBD 2022 such a rousing success. We can't wait til next year and til then, happy reading."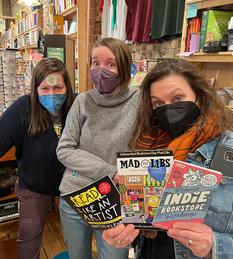 "Three hours to go, and we're still having fun!" at Zenith Bookstore, Duluth, Minn.
Read Spotted Newt, Hazard, Ky.: "My heart is full after a day with book lovers! I'm grateful for a community that continues to show up and support Read Spotted Newt. Readers and writers are the reason why I'm here. Thank you!"
Eleanor's Bookshop, Tulsa, Okla.: "WOW! That's a wrap on Independent Bookstore Day 2022. We had the BEST DAY with you, Tulsa! Thanks to EVERYONE who came out to support our sweet shop."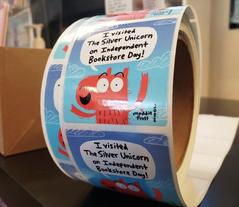 Silver Unicorn's stickers for IBD.
The Silver Unicorn Bookstore, Acton, Mass.: "The store was full of smiling people, and we had great events... in general this week, culminating with Independent Bookstore Day, was a great reminder of why we do what we do. Thank you, as always, for your support."
Main Street Books, St. Charles, Mo.: "Thank you so much for coming out to see us today. We've loved seeing your smiling faces and your photos all day! This has been our best Indie Bookstore Day ever, and it could not have happened without you."
Story time at the Frugal Frigate
The Frugal Frigate, A Children's Bookstore, Redlands, Calif.: "Thank you to everyone who came out to celebrate Indie Bookstore Day 2022 with us! And a big thank you to all of you who tagged us in photos and stories so we have memories to look back on."
Greedy Reads, Baltimore, Md.: "Another soul soothing Independent Bookstore Day is in the books! I am so happy to share in this city with a group of phenomenal bookstores, amazing booksellers, and all of you! Thank you!"
Deadtime Stories, Lansing, Mich.: "WOW. What a day! Half the city lost power, the weather wasn't great, it rained pretty hard at times... but still, you came out in droves to support us on Indie Bookstore Day! From other cities, from other states, new friends, old friends. We are SO grateful for you all!... Now, we must rest. Because we are exhausted. See you tomorrow?"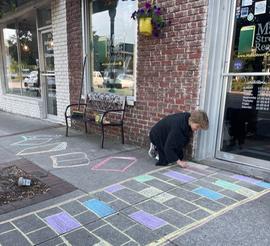 Sidewalk chalk art in progress at Main Street Reads.
Main Street Reads, Summerville, S.C.: "A fantastic day on Indie Bookstore Day--thanks to YOU! We indie bookseller adventure guides got to hang with readers and authors from as close as up the street and as far as Seattle, Washington. Our sincerest thanks to all of you... y'all ROCK!"
Newtonville Books, Newton, Mass.: "That's a wrap!!! We'll recap #indiebookstoreday tomorrow--right now, I am full of gratitude to our lovely booksellers and kind customers!"
Itty Bitty Bookstore, Stoughton, Wis.: "You guys came through and crushed it yesterday for Itty Bitty Bookstore's very first independent bookstore day! Yesterday was the very first day since opening that we had a line of people waiting outside for the doors to open at 10 a.m. and you guys didn't quit! We had our store packed with book lovers all the way until 5 p.m. when our shop closed for the day! Thank you sooooo much!"
Point Reyes Books, Point Reyes, Calif.: "Happy #IndependentBookstoreDay! We're catching our breath from a busy day of bookselling and great conversations in the store. We're grateful to you, our community both locally and around the world, for your dedication to this special place--and to reading more books, always."
Source Booksellers, Detroit, Mich.: "Thank to everyone that celebrated with us today. We were delighted to see all the mentions and posts."
Blue House Books, Kenosha, Wis.: "WHAT A DAY! Thank you so much to everyone who came out for Indie Bookstore Day! It was an amazing celebration of books, the people who make them, and the people who read them. You all truly made this day great."
Subterranean Books, St. Louis, Mo.: "Whew. Yesterday was somethin' else! Independent Bookstore Day 2022 went down as our single highest sales day in our 22 years. Thanks to all of you for coming out yesterday and for your support every day. Without you we are nothing."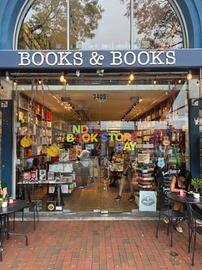 Booktowne, Manasquan, N.J.: "Thank you to everyone who made our Independent Book Store Weekend so memorable! Thanks to all the authors, great books, and finally, some great LIVE discussions!"
Books & Books, Miami, Fla.: "Our stores and our hearts are full, and our shelves a little emptier, this #IndependentBookstoreDay! THANK YOU to everyone who stopped in, purchased from us online, or supported an #indiebookstore closer to you."