Indie Booksellers were celebrating Star Wars Day yesterday with "May the 4th Be with You" posts on social media. Here's a sampling: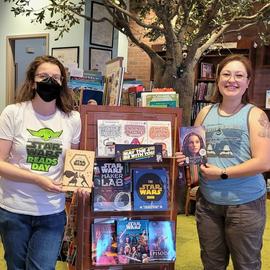 Quail Ridge Books, Raleigh, N.C.: "Happy Star Wars Day from a bookstore not so far, far away."
Carmichael's Bookstore, Louisville, Ky.: "Happy Star Wars Day! We have books from all over the Star Wars universe for you to enjoy."
The Bookshop in Lakewood, Lakewood, Ohio: "Even though we're closed today, we're still nerds. Mast the 4th be with you!"
Page 1 Bookstore, Albuquerque, N.Mex.: "May the 4th Be With You!"
BookPeople, Austin, Tex.: "May the 4th be with you, BookKids! You can still join our virtual event tonight with Jenna Yoon celebrating Lia Park and the Missing Jewel! Link in bio!"
Amalgam Comics & Coffeehouse, Philadelphia, Pa.: "We have enough Star Wars titles to fill a galaxy, pick up something new and start an adventure. May the force be with you."
Fables Books, Goshen, Ind.: "Are you ready to travel to a galaxy far, far away? Your adventure awaits."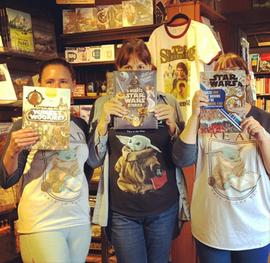 Macdonald Book Shop, Estes Park, Colo.: "May the 4th be with you as you navigate these snowy roads today!!! Anyone else wake up this morning totally surprised by this awesome snowstorm?!"
Drama Book Shop, New York, N.Y.: "May the 4th be with you. Happy Star Wars Day!"
Title Wave Books, Anchorage, Alaska: "Happy Star Wars Day! May The Fourth be With You!"
Plaid Elephant Books, Danville, Ky.: "Did you know we have graphic novel adaptations of the Star Wars storylines? They're pretty cool."
The Yellowknife Book Cellar, Yellowknife, N.T., Canada: "May the 4th be with you! And if you have no idea what I am referring to then maybe consider yourself lucky to not know the world of the hot takes about should there have been those three 'prequels' or if Rian Johnson's take was better than JJ Abrams (it was), and just look forward to tomorrow or a nice long nap tonight if your partner feels like watching the movies for the umpteenth time."