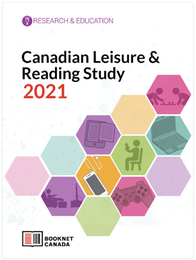 BookNet Canada has released The Canadian Leisure and Reading Study 2021, which features results from a survey fielded in January 2022 to 1,282 Canadians over the age of 18. Where noted, results are compared to the January 2021 survey of 1,253 Canadian adults. Among the highlights:
Less than half (45%) of respondents said they had enough leisure time, compared to 35% with more than enough and 20% not enough. For readers, 94% said that they read at least one print book in 2021, 64% read at least one e-book, and 45% listened to an audiobook. In terms of frequency, 42% said they read at least once a day, 22% once a week, 14% once a month and 22% less than once a month.
Popular reading-related activities for readers included searching for other books by that author (38%); sharing the experience, book or photo of the book with others (22%); going online to read about the author or follow them on social media (17%).
Regarding the ways Canadians acquired print books, 56% of respondents chose to buy and 44% borrow. For e-books, 49% chose to buy and 51% borrow; and for audiobooks, 48% chose to buy and 52% borrow. The most popular ways respondents discovered the books they read were word of mouth (36%), bookstore (27%), public library (25%), online book retailers (20%), podcasts (8%) and through literary awards or "Best of" lists (6%).
Other findings:
The most popular reason why respondents chose to read a specific book was the subject or topic (43%).
Book-to-screen adaptations were not as popular reasons to read a book in 2021 (5%) as they were in 2020 (11%).
When asked about password sharing for e-book subscription sites, 28% said they either did (12%) or sometimes did (16%).
In terms of spending money on books, 37% of readers said they chose books within their budget and 34% only borrowed or got their books for free.
E-books were the preferred format for 16% of all readers and audiobooks were preferred by just 10% of readers.
Print book readers are choosing to read more adult non-fiction in 2021 than they did in 2020--69% in 2021 up from 61% in 2020.
True crime readership was up among print book readers, at 29% in 2021 compared with 24% in 2020.
A copy of The Canadian Leisure and Reading Study 2021 can be downloaded here.
---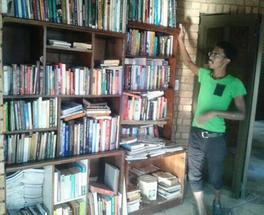 Africanews featured Thami Mazibuko, who relocated back to Soweto, Johannesburg, South Africa several years ago and founded the Soweto Book Café in his childhood home in 2018 as a space where he could advance literacy and "provide the community with access to books and information which is their basic human right."
"I am a reader myself," he said. "When I came back here around 2016/15, there were no bookstores at all, I did not have books. So I started collecting books, I had some of the books I travelled around with so. When I used to live in the city, I had my books, I brought 30 books. So I had an idea to start a business and also for a bookshop and a library for the community."
The Book Café also provides a quiet space for the youth living in the neighborhood. They come to do their assignments, relax and read, including 50 regular members of a book club. "Small bookshops like this one proliferate across Johannesburg, usually offering second-hand books, but also a sense of community," Africanews wrote.
---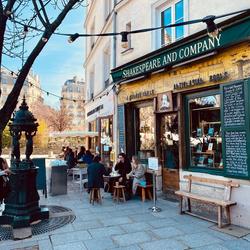 Bookseller Moment: Posted on Instagram by Shakespeare and Company bookstore, Paris, France: "It's a beautiful spring day in #Paris. Why not come to @shakespeareandcocafe for a drink on the terrace, or just for a game of chess en plein air...." --Robert Gray