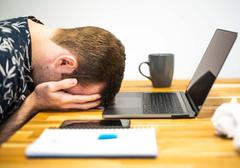 Publishing in the U.K. is facing "industry-wide burnout," according to a survey conducted by the Bookseller, which found that 89% of staffers responding had experienced stress during the course of their work over the last year, while 69% reported burnout. With more than 230 responses, 87% of whom were publishing staffers, the survey showed that 64% of people working in the industry "felt their work had impacted their mental health in the last year. Many attributed this to unsustainable workloads and an 'always on' culture, worsened by the pandemic."
In total, 63% of respondents said they worked more than their contracted hours each week, with some saying they worked up to 20 or 30 hours extra, while 73% agreed their workload had increased in the last year, and 37% said they were not satisfied with their work-life balance. The survey also showed 38% of respondents wanted to leave their job. Although 67% felt supported by their manager, they said "little could be done to change their heavy workloads which were causing the stress in the first place," the Bookseller noted.
Burnout is not limited to publishing staffers. A number of booksellers also reported problems with stress due to working conditions, the Bookseller wrote, though "one store manager, who has worked as a bookseller for more than nine years, said despite the issues they are 'constantly impressed by how supportive other people in the industry are to each other'.... Social media is a godsend in this, and I'm not sure you would get a similar thing in other industries," they said. Another bookseller, who has worked in the trade for two years, noted "conditions are okay but pay isn't substantial and doesn't encourage building a career."
---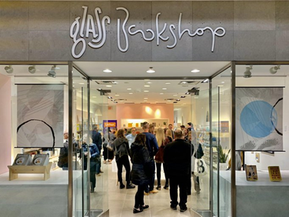 The owners of Glass Bookshop in Edmonton, Alb., Canada, "are taking their mission to support queer and racialized authors directly to the page with the launch of a new small press," Quill & Quire reported. Glass House Press launched this spring with three chapbooks by Edmonton writers: Bellow, a poetry collection by Shima Robinson aka Dwennimmen; Notes on Digging a Hole, an essay with photos by Zachary Ayotte; and Ancestors and Exes, featuring poems by Emily Riddle.
"There is an incredible pool of literary talent here in Edmonton," Glass House Press co-publisher and co-editor Matthew Stepanic said. "We knew some really great folks who had work that was ready to go that we could publish, and we wanted to make sure that these exciting voices hit the scene and had a press behind them to really push it into people's hands."
Glass House Press plans to publish three chapbooks in each of two seasons, spring and fall. The books are currently available for purchase online and in-store at Glass Bookshop, and will also be offered by select indie booksellers, including Massy Books in Vancouver, B.C., and Flying Books in Toronto, Ont.
---
Physical bookshops in Austria have recovered significantly, according to recent sales numbers. The European & International Booksellers Federation's Newsflash reported that the country's bricks-and-mortar bookshop sales "grew by 66% compared to April 2021. The first quarter of 2022 shows a growth of more than 30% in comparison with Q1 2021. The German book trade also reports strong growth in sales in April 2022, with a 40.3% sales increase in comparison to April 2021. In Q1 2022, German booksellers reported a 24.2% increase in sales compared to Q1 2021."
---
Love for Livres, a French literary platform dedicated to the promotion of reading, is launching the "Erasmus+" project, "bibliotherapy sessions for women and young victims of all forms of violence," EIBF's Newsflash reported. "The project is set to begin in June and its objective is to support women and young victims of violence or social precariousness through bibliotherapy sessions conducted in France, Italy and Spain. The sessions will be led by psychologists and librarians trained in bibliotherapy and will focus on literature as a tool to advance people in their professional and personal lives." --Robert Gray