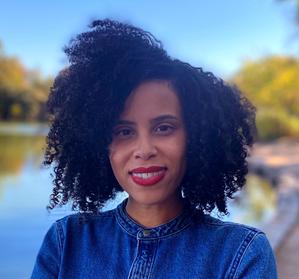 photo: Noah Barrow
Chantal V. Johnson is a lawyer and writer. Her debut novel, Post-Traumatic (Little, Brown, April 5, 2022), follows a millennial Black Latina who works as a lawyer representing psychiatric patients and privately struggles to keep at bay what may or may not be her own PTSD from an incredibly tough childhood. Johnson is a graduate of Stanford Law School, a 2018 Center for Fiction Emerging Writer Fellow and lives in New York.
Handsell readers your book in 25 words or less:
Post-Traumatic is a darkly funny novel about the aftermath of childhood trauma, the challenges of gender and the power of friendship.
On your nightstand now:
I just finished the novella Whimsy by Shannon McLeod. It's about a young woman trying to forge connections in the wake of an accident that leaves her disfigured. I kept it on my nightstand because it's very cool-looking (small and orange).
I'm currently reading The Four Humors by Mina Seckin and am really enjoying it: it's wry and sweet and filled with interesting digressions about language, history and familial gossip.
I'm also making my way through all of Percival Everett's novels, and Telephone is up next.
Favorite book when you were a child:
I loved Alice's Adventures in Wonderland. In addition to the surreal and wacky plot, it's a celebration of language and what you can do with it: perfect for a young writer.
Your top five authors:
Anita Brookner is a master of the character study, and she writes perfect paragraphs. I love that her writing is as meticulous as many of her main characters, who work very hard to avoid the messiness of life.
Elena Ferrante is a model for propulsive writing about gender and relationships.
Zadie Smith manages to be a brilliant novelist, essayist, cultural critic and reader all at once.
Ben Lerner has been a major influence on me. His writing is cerebral and interior, while also being really invested in intimacy and relationships.
I love all of Marie NDiaye's strange, somewhat surreal novels of troubled women, personal and inherited shame and familial estrangement.
Book you've faked reading:
Probably something by Deleuze and Guattari in graduate school.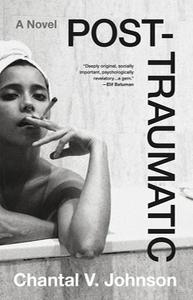 Book you're an evangelist for:
There are currently two. First is The Great Offshore Grounds by Vanessa Veselka, which is a female road novel, a shipping-and-boating novel and a novel about social class and the complications of family. Vanessa is also just great at making things happen, plot-wise.
I am also championing The Trees by Percival Everett, which is a darkly comic police procedural crossed with a race revenge story. It's marvelous and utterly distinct.
Book you've bought for the cover:
Painting Time by Maylis de Kerangal, which features a lovely Picasso painting and hand-written lettering on the cover. It's a perfect design for a novel about ambitious young artists who paint all night. Na Kim has got to be one of the best book designers in the business.
Book you hid from your parents:
I don't remember ever having to hide a book.
Book that changed your life:
There are so many, but I was lucky to get to read Annie Dillard's Pilgrim at Tinker Creek in a high school English class. The idea of a brilliant woman taking herself and her thoughts seriously--and prioritizing solitude and reflection--really affected me at that age.
Favorite line from a book:
It's from "Privilege," one of the stories in Alice Munro's The Beggar Maid: "Learning to survive, no matter with what cravenness and caution, what shocks and forebodings, is not the same as being miserable. It is too interesting."
Five books you'll never part with:
I still have my high school copy of Pilgrim at Tinker Creek: it's filled with my teen scribblings and naïve thoughts--and I love it.
My first year of college I took a course devoted entirely to Virginia Woolf, and I still have most of those books. But The Waves stands out as a keeper.
Sylvia Plath was formative for me, and I'll never part with the tiny Faber & Faber paperback version of Ariel that I bought in Paris at Shakespeare & Company when I was 19.
I reread Dinner at the Homesick Restaurant by Anne Tyler once a year, so I've got to keep that.
Finally, I'll never part with The End of Vandalism by Tom Drury, because it is a perfect book and one that makes me feel better each time I read it.
Book you most want to read again for the first time:
Milkman by Anna Burns is an incredible book that really opens up new formal possibilities for the novel. It is written in a completely original style and contains brilliant insights on gender and oppressive communities. I am far too cynical to experience much awe or wonder in life, but that's what I felt while reading Milkman.
A book you love that readers might not know:
Pig Tales by Marie Darrieussecq. It's a gender satire about a woman who turns into a pig.