At Roundabout Books in Bend, Ore., cards are selling very well, reported owner Cassie Clemans and sidelines buyer Jenny Cornutt. Some of the store's bestselling card lines include E. Frances, Masala, Little Pine Artistry, Sacredbee and 1Canoe2, with E. Frances's Little Notes selling quickly this spring. Cornutt added that children's-focused products from Ooly, including erasers, happy packs, scented pens and pencils, are "always a hit."
Recently Roundabout started carrying Felix Doolittle bookplates and cards; they have "quaint images" and have been well received. Cedarwood pencils from Imogen Owen, scented with fragrances like jasmine and peony, are new as well. The store also just received its first shipment of branded mugs from Deneen Pottery, which the team looks forward to selling during tourist season this summer.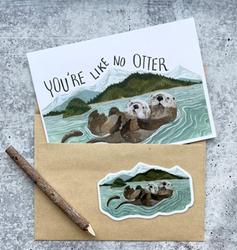 From Little Pine Artistry
The store carries a number of products that are made locally, including letterpress cards, bookmarks and pins from Green Bird Press, as well as cards and stickers from Little Pine Artistry. The team also loves Wick Forest soy candles, and chocolates from Euphoria Chocolate Company in Eugene, Ore., are long-standing hits. Expanding on the topic of perennial favorites, Clemans and Cornutt pointed to stickers by Stickerlicious, along with chocolates made by Theo, Mast Brothers and A Priori. As far as cards go, the store's customers have been "buying up SacredBee since the day we opened."
Asked about supply-chain issues, Cornutt and Clemans said nothing major comes to mind, though some items have been delayed or gone out of stock. That said, there is "always something available to bring in."
---
Kristin Gilbert, co-owner of Exile in Bookville in Chicago, Ill., said the store doesn't carry a lot of nonbook items, which is by choice, but the bookstore does sell a selection of stationery, pens and pencils from JPT, an "awesome Japanese distributor." Gilbert and store co-owner Javier Ramirez "couldn't be happier with their quality," customers love the products, and there are unique offerings like cigarette pencils.
The store's one-year anniversary was on Independent Bookstore Day, and Ramirez and Gilbert brought in new shirts and tote bags to mark that occasion. The shirts were designed by Michael Fusco-Straub, co-owner of Books Are Magic in Brooklyn, N.Y.; the totes featured an illustration from the novel Justine by Forysthn Harmon. Both the totes and shirts were printed locally by Barrel Maker Printing.
The store has also brought in vinyl records, which are sourced from Alliance Entertainment distributors, and customers are "really happy that we have this to offer now." Looking ahead, they also plan on bringing in greeting cards from a local artist in the next month or so. Gilbert noted that the store is housed in the Fine Arts Building in Chicago, and they are "eager to support local artists."
On the subject of supply-chain issues, Gilbert said they've experienced them "big time." With the store's stationery coming from Japan, there have been some major hurdles, but JPT has "made this process as smooth as possible." And with vinyl records, there is a "massive shortage" in material and demand has increased, resulting in "so many albums being backordered right now." In that sense, selling vinyl can be a bit like selling books--when a title is backordered, you simply showcase all the other great titles you have. --Alex Mutter