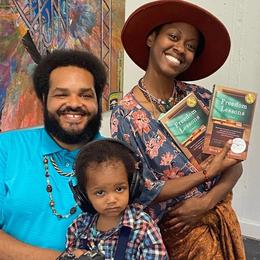 Raymond Sykes and Kaila Boulware-Sykes, with their son, Truth.
Kaila Boulware Sykes and Raymond Sykes, co-founders of the donation-based bookstore Hidden Gems Literary Emporium in New Brunswick, N.J., are looking to embark on their second bookmobile tour of the East Coast next month, Fox News reported.
Last summer, the couple traveled from New Jersey to Florida, delivering 1,000 free books and educational resources along the way. For that trip they traveled in their Chevy minivan, which has since broken down. They are currently trying to raise funds for a new bookmobile so they can distribute another 1,000 books to children and families this summer.
They've launched a GoFundMe campaign for the bookmobile, which will be built out of a converted Class A RV. The Free Mobile Library will include an indoor and outdoor bookstore, furniture, television and computers for literacy classes, a kitchen for free drinks and refreshments, a sound system for performances and more.
On opening day in June 2021, Hidden Gems had around 10,000 books in stock. Customers were welcome to pay by donation or simply take as many books as needed. Since then, Boulware Sykes told Fox, "people have donated over 40,000 books." They've also distributed more than 7,000 books in total, some of them going as far as Ghana.
When not operating the bookstore, the couple hosts free book festivals at schools and other locations throughout New Jersey.