Novelette Booksellers hosted its grand opening yesterday at 1101 Chapel Ave. in East Nashville, Tenn. Co-owners Deezy Violet and Jordan Tromblee describe their bookshop as "a fun, vibey, safe space for book lovers of all ages. We boast a highly curated selection of both fiction and nonfiction books by diverse authors, and a great selection of graphic novels. With an eye for inclusivity and celebration of our differences, Novelette strives to be inclusive to people of all backgrounds."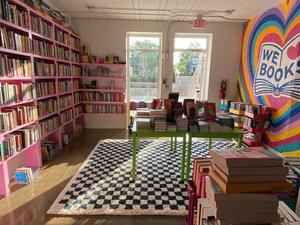 Novelette is the first business to locate in the renovated Hobson Chapel building within the Eastwood Village development, the Tennessean reported, adding that the owners are familiar faces in the East Nashville scene and their new bookstore "is decorated with vibrant colors--there are bubblegum pink bookshelves, lime green display tables and a bright, yellow-painted wall with mushroom imagery. Checkered rugs are laid out on the floor."
"We hope our shop feels fun and inclusive to everyone," Violet said. "We care a lot about having a no judgment zone for people's reading tastes and encouraging people to read for fun, not just because they feel like they have to."
Being "an LGBTQ-owned business and the first in the space, which was once a church and school, has brought in pressure and excitement" for the co-owners, WPLN reported.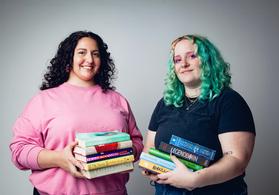 Novelette owners Jordan Tromblee and Deezy Violet.
"We're just anticipating a few challenges of being the first business open in this complex where, you know, the more businesses that come in, the better it'll be for us because we'll be on a map more," Tromblee said. "But we also kind of get to set the tone for what comes in.... We just kind of wanted you to know right off the bat when you get in here: like, celebrate yourself. You don't have to hide. You can ask us anything. We're here for you."
Violet added: "We just thought it would be really fun to have a bookstore that kind of reflected us, but also sort of like filled in the gaps in town because, while we love the other bookstores that are in town, there is definitely, like, a lack of color and a little bit of a lack of whimsy. And we just wanted to kind of fill that space in, so that children and adults could just have a fun, happy time when they walk in here."
In an Instagram post, the co-owners noted: "We hopefully get to help shape the community, support authors we love, and bring some joy in this crazy insane world. This project means the world to us. It's a literal dream to own a bookstore. To be surrounded by art, stories, words that carry weight, and chat with fellow book lovers daily... what?! We are too lucky!
"This doesn't mean this project wasn't time consuming, tedious at times, and literally back breaking labor (we put away over 130 boxes of books)! But this project fired up our imaginations, affirmed our love of books, and has connected us to East Nashville more deeply."