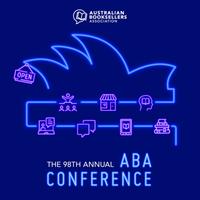 Australian Booksellers Association CEO Robbie Egan checked in just after the ABA Conference and Trade Exhibition, held earlier this week in Sydney and in person for the first time since the pandemic began. "There was a genuine positivity at the event, and a real desire to move on from our rolling lockdowns," Egan wrote. "Putting a program together is an interesting exercise as we look to balance the needs of individual members while maintaining focus on issues that affect us all. I believe we struck a good balance between hearing from brilliant authors and diving into industry issues. Diversity is something I felt we needed to keep on the boil--to discuss, mull over, work to be better. We don't want panels to discuss it endlessly, as Dani Solomon said, we need to widen our gaze.
"On that topic, I thought our keynote speaker, Gamilaroi woman, writer and academic, Amy Thunig, was brilliant. A storyteller and a formidable intellect, Thunig spoke about the power of community and family love, and the need for us to work harder in our industry (and everywhere else) to respect and grow Aboriginal and Torres Strait Islander voices. Our other theme was sustainability, and Angela Meyer delivered a brilliant speech on the stark realities of climate change and our own industry. There is much to consider in how we engage in our industry. We look forward to Angela's final report later this year."
The ABA Bookseller of the Year Award 2022 winners, who were announced at the gala dinner Sunday night, are Becky Lucas of Shakespeare's Bookshop, Blackwood, S.A. (Children's Bookseller), Kimaya Charlton of Where the Wild Things Are Bookshop, West End, Qld. (Young Bookseller) and Melanie Peacock of Constant Reader, Crows Nest, N.S.W. (Bookseller of the Year).
---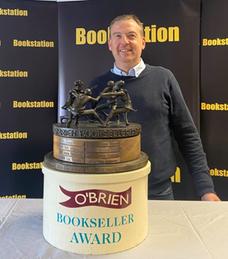 Alan Johnston
Alan Johnston, marketing director at Irish book and stationery chain Bookstation, is this year's recipient of the O'Brien Press Bookseller of the Year Award, which is presented "in recognition of outstanding achievement or an invaluable contribution to the trade by an individual bookseller," the Bookseller reported. The winner receives The Elements, a bronze trophy created by Irish sculptor Rowan Gillespie, and a commemorative certificate.
Johnston said: "Thank you, I am delighted to have received the O'Brien Press Bookseller of the Year Award, and I would especially like to dedicate it to the fantastic Bookstation team who made it possible."
Brenda Boyne, sales manager at the publisher, added: "It was a pleasure to present the O'Brien Press Bookseller of the Year Award to Alan Johnston at Bookstation. Alan was nominated by his peers in the trade, for his enthusiasm and his genuine love of books. He is a deserving winner of this year's award."
---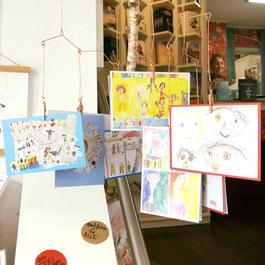 Buchhandlung am Färberturm, a bookshop in Gunzenhausen, Germany, launched a campaign aimed at combating racism and educating children about diversity. The European & International Booksellers Federation's Newsflash reported that "in cooperation with the Buchhandlung Stoll bookshop, Buchhandlung am Färberturm distributed crayons of all skin colors, as well as children's books on diversity, to local primary schools and kindergartens. As part of the campaign, a children's painting competition was organized, with 16 of the submitted paintings printed as postcards and sold in bookshops. The proceeds will be donated to organizations that are committed to combating racism."
---
Canadian bookshop wedding photos: "Danielle and Darryl stopped in to share their special day with us and take a few beautiful pictures! Congratulations to the happy couple!" River Bookshop, Amherstburg, Ont., posted on Facebook. --Robert Gray