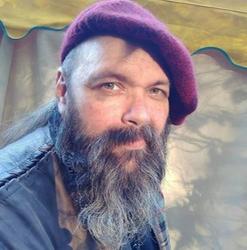 Mike Pruette
Mike Pruette, one of the owners of the Liberty Book Company, Rock Hill, S.C., died June 14. He was 51. "We are devastated, and will be spending Saturday with his friends and family at a service in his honor. Thank you for your kindness and patience at this time," the bookshop posted on Instagram last week.
Pruette was born in Charleston, S.C., but spent his youth in Cheraw, S.C., growing up on the Cheraw State Park and what he called his "73 acre playground." He graduated from Cheraw High School in 1988, and moved to Charlotte, N.C., where he met his wife, Adonna, and raised his family.
An avid history buff, he enjoyed reenacting Civil War military battles all over the East Coast. Pruette later became an owner of the Liberty Book Company in Rock Hill while he grew his talents and passion for leatherwork. He went on to become a leather artisan and launched Celtic Leatherworks.
The Liberty Book Company shared a link to the GoFundMe page set up to assist his "wife and children at this terrible time.... We are so humbled by the outpouring of love and support that everyone has shown. Truly, thank you, from the bottom of our hearts.... Mike was so much more than this bookstore, but it was a massive part of his life. We appreciate your patience as we figure out life without our favorite Book Laird."