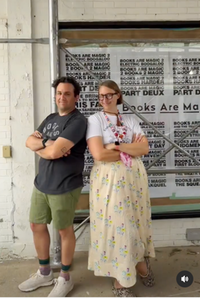 Michael Fusco-Straub and Emma Straub outside the new store.
Books Are Magic, which opened its Cobble Hill store in Brooklyn, N.Y., five years ago, will launch a second store, at 122 Montague St. in Brooklyn Heights, this fall. In an Instagram post yesterday, co-owners Emma Straub and Michael Fusco-Straub announced: "The secret is OUT! We've been *dying* to tell you about our second location, and we just couldn't hold it in anymore. Books Are Magic is coming to Montague Street, tell everyone. While you're here, drop your favorite Brooklyn Heights lunch spots down in the comments so the booksellers will know where to go first."
In a joint statement, the co-owners and their staff said, "One consequence of opening a physical space is that almost immediately, people start asking when you're going to open a second." TimeOut NY reported they compared the experience to "having a baby and strangers asking about siblings, but in this case, real estate developers were hitting up the Books Are Magic inbox with rentable space in Manhattan and Los Angeles. It was a lot and also didn't suit the Books Are Magic brand, which has built a home in a cozy corner shop in a residential neighborhood."
Books Are Magic's "success and popularity since opening in 2017 has raised some questions about expansion, and a regular commute to school in Brooklyn Heights intrigued the Fusco-Straubs, entrepreneurially and architecturally," TimeOut NY wrote. "After looking at half a dozen spaces that were ruled out for all the typical New York reasons (too small, too many stairs, etc.), this spring they stopped into the former spot of a Housing Works and of Fishs Eddy, and felt a connection to the retail space, which is, conveniently, next to an ice cream shop."
"We signed the lease, and have started building a new bookstore," they noted. "The friend who helped us build the store on Smith Street is helping us again, and right now, we are brainstorming with the booksellers about what the space should be."
Five years ago, the original Books Are Magic "was greeted with much fanfare and anticipation," Patch Brooklyn wrote, adding that the bookstore "quickly grew into a destination in its own right, specializing in a range of hard-to-find-elsewhere books plus free readings by authors. News of a second outpost was greeted with similar excitement, eliciting thousands of 'likes' and hundreds of comments on Instagram in a matter of hours."