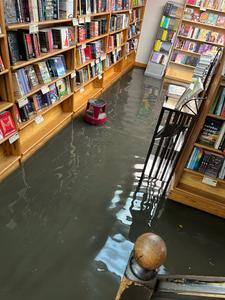 Left Bank Books, St. Louis, Mo., suffered substantial flood damage from the torrential rains that hit the city earlier this week. Owner Kris Kleindienst posted on Facebook Tuesday that the shop "was more of a colander than a bookstore last night when 8.85 inches of rain fell in 9 hours, an all time record for the area. Intrepid booksellers that we are, arrived for our 8:30 staff meeting to a very wet lower level, aka basement. The 120 year old stone walls in backrooms leaked like they were springfed water sources and 4 storm sewer drains in 3 rooms also backed up. Submerged extension cords shorted out what was attached to them. Some fixtures and minor electronics (counting our new cat Orleans' fancy water fountain), some books, lots of paper products and display materials got drenched beyond saving. Storm sewer water can be especially nasty." In addition, the carpet on the sales floor was soaked.
"We dutifully held our meeting and then rolled up our sleeves and got busy," Kleindienst added. "Special kudos to Anthony, Shane P. Mullen, Randy Schiller, and Cliff who handled a lot of nasty stuff w 'nary a complaint. We are lucky. Some St. Louisans were not so lucky. We will be able to recover with mostly inconvenience and hopefully some help from insurance etc. We are open and browsable. We are processing online orders. We may need to explore some new designs for furniture and fixtures on stilts! Because something tells me this is only the beginning of the superstorms."
Yesterday, Left Bank posted an update: "The flood is taking us again.... We're closed for browsing until further notice. Feel free to shop online!" And: "Flood water has overtaken our lower level so we will be closed until further notice. You're welcome to browse and buy online! By the way... this is not normal. Climate change is real and things like this will only get worse."
Several indie booksellers showed their support on Twitter, including Raven Book Store, Lawrence, Kan. ("Our good friends (and Midwest bookselling legends) @LeftBankBooks are dealing with some nasty flooding right now. Today is a good day to: place an online order... tell your elected officials to pass meaningful climate legislation."); and Capitol Hill Books, Washington, D.C.: "Yo, send some love to @LeftBankBooks in St. Louis. They got rocked w a huge storm. Here's their website. Buy something."
Last night, Kleindienst shared pictures "of high tide this afternoon in the lower level of Left Bank Books when the rivers ran backwards and flooded much of St. Louis in a big ass hurry. Our lower level is likely a complete loss, though quick-moving booksellers sacrificed shoes and comfort to save books and electronics (and Orleans, our new cat) before scooping up books on lower shelves. This level has sales floor, including our used book department, all of our offices except receving and shipping, stock storage, our furnace and our all important server computer, and all the stuff a bookstore needs to operate. I *think* we are getting a break on the rain for a while at least, maybe long enough to get a return call from the insurance company or the flood remediation people. We'll be taking online orders and hope to have some part of the store open somehow at some point...."