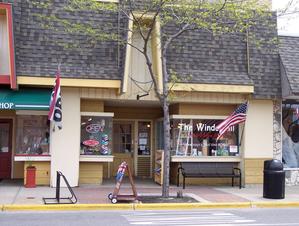 A "new era" began on Monday at the Windowsill Used & New Books, Ludington, Mich. The Daily News reported that Samantha Adams, a Windowsill staff member for about a year, is now a co-owner, after buying part of the business from 15-year owner Julie Toole. The plan is that in about five years, Toole will retire and Adams will take over as the store's sole owner.
"We're good friends, and we really enjoy working together, so we're pretty excited about being able to go into business together and share our love for books and reading," Adams said.
Noting that she has been training Adams "from the beginning," Toole added: "I'm feeling very confident that this is going to be a very good transition." During her time with the bookshop, Adams has revamped the store's website and added an online ordering system. "She's been soaking up industry knowledge from Toole, and has a few renovation ideas," the Daily News wrote. "But for now, the partnership doesn't mean much change in the way things are done at Windowsill."
Adams said she will maintain the "super friendly and helpful" service regulars have come to expect from Toole, a 30-year book industry veteran who described the store as "very customer service-based." Adams added that it was those "really good discussions" with customers that "really drove home the fact" that she wanted to be part of the store. "There's so many people that come in, and they're happy, and they're excited. There's really no unhappy people in a bookstore."
Toole noted that it was hard to imagine quitting the bookstore "cold turkey," which led to the five-year timeline until retirement. "I'm hoping that within the five years, that I'm ready, and I suppose if not, maybe Sam will keep me on as an employee."