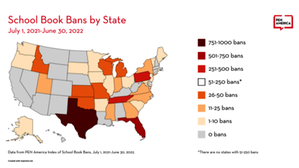 According to a new report released yesterday by PEN America, there were 2,532 instances of individual book bans in the U.S. during the 2021-2022 school year, with 1,648 unique book titles affected, reflecting what the organization called "a rapid acceleration of book bans in American schools."
The new report updates "Banned in the USA: Rising School Book Bans Threaten Free Expression and Students' First Amendment Rights," which PEN America released in April 2022 and which covered the first nine months of the 2021-2022 school year. The numbers represent cases either reported directly to PEN America or covered in the media, and "there are likely additional bans that have not been reported."
There were book bans in 138 school districts spanning 32 states, representing 5,049 schools with a total enrollment of close to 4 million students. The creative output of 1,553 people, including authors, illustrators and translators, was affected.
About half of the banned titles were young adult books, with 41% of the banned titles featuring LBGTQ+ themes or characters and 40% containing protagonists or secondary characters of color. Another 21% addressed issues of race and racism, and 22% contained sexual content of various kinds, such as stories about sexual assault, teen pregnancy and abortion and informational titles about puberty, sex and relationships.
PEN America estimated that around 40% of the reported bans are connected to "either proposed or enacted legislation, or to political pressure exerted by state officials or elected lawmakers to restrict the teaching or presence of certain books or concepts."
The organization also identified 50 groups involved in pushing for book bans across the country. Operating primarily through social media, most of these groups formed since 2021, and they have "played a role in at least half of the book bans enacted across the country during the 2021-22 school year."
Jonathan Friedman, author of the report and PEN America's director of free expression and education programs, called the phenomenon "a targeted effort. These are not just individual complaints about books that parents are complaining about because their children are bringing them home. Overwhelmingly, we are seeing people Google 'what books have LGBTQ content whatsoever,' even just a book that has an illustration of a same-sex interracial couple, gets thrown onto one of these lists and ends up banned in some districts in Florida."
The updated report can be found here.