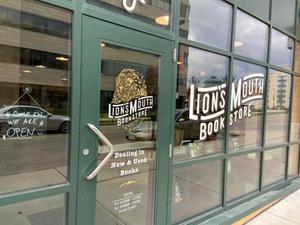 Lion's Mouth's current location
Lion's Mouth Bookstore in downtown Green Bay, Wis., is moving to a larger space at the end of the month, the Milwaukee Journal Sentinel reported.
The bookstore will be moving two blocks away, from 401 N. Washington St. to 211 N. Washington St. It will close in its current home for the final time on September 28 and will reopen in the new location in time for an October 6 author event.
The new space will allow owner Amy Mazzariello and her team to expand the bookstore's children's section and host much larger events. Mazzariello told the Sentinel that the new location is "near the action" and has better access to parking. And while she declined to give specifics, she noted that the new location will sell beverages that pair well with books, though that may not be ready in time for the reopening.
Prior to opening The Lion's Mouth in 2019, Mazzariello was buyer and events coordinator at the Reader's Loft. When Virginia Kress, the owner of the Reader's Loft, retired, Mazzariello acquired the business, changed the name and moved the store to downtown Green Bay.
In advance of the move, Lion's Mouth Bookstore is running a 15% off "storewide moving sale." The bookstore has also temporarily stopped buying used books until after the move. During the move customers will still be able to order books for pick-up and delivery, and volunteers are welcome to help with the move.