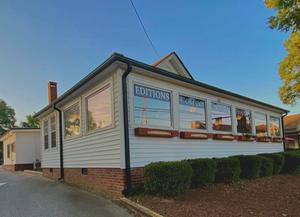 Congratulations to Editions Coffee and Bookstore in Kannapolis, N.C., which celebrated its fifth anniversary in August. Store owner Dawn Evans told WCNC that it's been a "wonderful experience" despite some significant challenges during the pandemic.
"Our customers are so fabulous," Evans said, recalling how she and her team had completed a drive-through addition to the bookstore and coffee shop literally days before the pandemic shutdowns began. The drive-through, and a PPP loan, became the store's lifeline during the worst parts of the pandemic.
"They came through the drive-through and they ordered coffee and they ordered books through the drive-through and artwork through the drive-through," she continued. "I mean, it makes me want to cry, just thinking about it."
Five years ago Evans and her husband purchased the Book Trader, which was a used bookstore at the time. Over the ensuing years Evans added new books to the inventory and the coffee shop.
Evans added that she is already looking forward to celebrating the 10th anniversary.