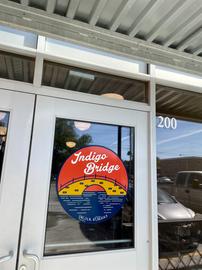 Indigo Bridge in Lincoln, Neb., will reopen in its new location this fall, the Daily Nebraskan reported.
The bookstore had planned to host a grand opening in the new space at 1624 S. 17th St. earlier this month, but construction delays have slowed things. Aaliyah Samci, Indigo Bridge's director of operations and marketing, told the Nebraskan that when the bookstore reopens a little later this fall, it will once again have a coffee shop with locally sourced ingredients and materials.
Samci added that the store's mission of uplifting underrepresented communities will continue, and every book in the store was written by an author from an underrepresented group. That could mean queer authors, women authors, authors of color or anyone from a group that "isn't society's default."
Putting together lists of community resources is also a big part of Indigo Bridge's mission, with Samci explaining that the team understands "that a lot of people in marginalized groups, especially in Nebraska, do not have the resources that other people in this town have. It's really important to us to be able to communicate with people and spread the information of any resources that anyone could possibly work [with]. We're very community-based here."