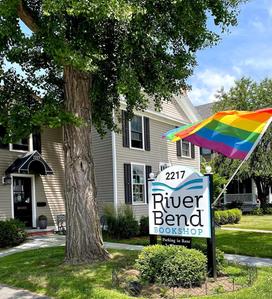 River Bend Bookshop in Glastonbury
Connecticut's River Bend Bookshop will open a second location in West Hartford this November.
Owner Meghan Hayden, who opened the original location in Glastonbury in 2018, reported that the new store is 1,200 square feet and will sell new books for all ages, along with gifts, stationery, puzzles and games. Event plans for the new shop include author events, storytime sessions and more.
Hayden explained that the new location came about through a partnership with Playhouse on Park, a professional theater in West Hartford. The River Bend team began setting up themed book displays in the theater's lobby in 2019, and "while spending time at Playhouse we fell in love with the Park Road neighborhood. It is a vibrant area filled with incredible restaurants and small businesses."
Bookstore manager Audrey Beatty said: "We really pride ourselves on the relationships we build with customers. Our west-of-the-river friends have expressed to us, loud and clear, that they'd love for us to be closer. This is a fantastic opportunity to broaden our community and meet readers where they're at."
In addition to the Glastonbury store, River Bend operates River Bend Book Truck, which does pop-up sales at festivals and events around Connecticut.