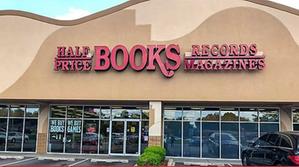 Booksellers at the Half Price Books location at Hurstbourne Parkway in Louisville, Ky., voted to unionize last week, WDRB reported. They have organized with UFCW Local 227, and Half Price Books has voluntarily recognized the union.
In a statement, the booksellers explained they chose to unionize over issues including pay and staffing levels. Mary Condon, one of the booksellers, said: "We deserve a seat at the table, and a place for our ideas not only to be heard, but for us to negotiate their implementation."
"Half Price Books will recognize the newly formed union at our Hurstbourne store and will begin the process of working with union representatives," said Half Price Books president Kathy Doyle Thomas.
With headquarters in Dallas, Tex., Half Price Books has more than 120 stores around the country, with two in Louisville. The unionization is another in the ongoing wave of labor organization, both in the bookselling world and retail at large.