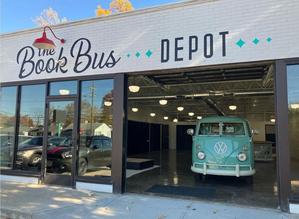 A ribbon-cutting and grand opening celebration took place on Saturday for the Book Bus Depot at 10936 Reading Rd., Sharonville, Ohio. Owner Melanie Moore, who in 2019 launched the Book Bus (built out of a 1962 VW Transporter truck) now has a bricks-and-mortar location that will serve as "an event space that houses a bookstore featuring both new and used books and more importantly, it will house the Book Bus truck."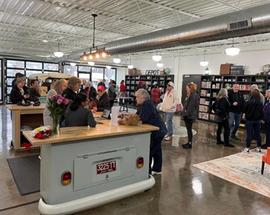 In a Facebook post Saturday, Moore noted: "What an outpouring of love and support today! I had folks drive in from Tennessee and Cleveland. Those who couldn't make it had flowers delivered, one sent from California. Many of you brought special notes or gifts. Becca, a beloved customer, gifted me a mint condition copy of Parnassus on Wheels (the inspiration for The Book Bus). And the books bought! I have a big day of ordering on Monday to fill these shelves back up. It was lovely chatting books with everyone inside as we watched the snow fall down outside which was a perfect example of why we need The Depot. I told someone today that if you ever doubt there is love in the world, come talk to me. I can share a hundred stories just about this Book Bus community. There are so many kind, generous people! My heart is full!"
On Friday, Moore shared "before" photos, writing: "Fun Photo Friday! No pretty pics today! I wanted to share pictures of what we started with so when you see The Depot at the grand opening on the 12th, you can truly appreciate how far we've come. We basically started with a shell, no plumbing, no electric, no hvac and boy, was it ugly. I can't wait to share The Depot with you! I hope you love this new space that we've created where we can come as a community and share our love of reading."