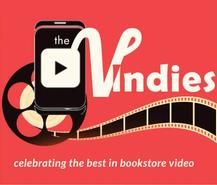 Winners of the 2022 VIndie Awards were announced during a virtual ceremony Wednesday night. The VIndies were launched last year by the Southern Independent Booksellers Alliance and the New Atlantic Independent Booksellers Association to celebrate "the best in bookstore video," honoring the spirit and voice of indie bookstores and highlight "exactly why indie booksellers are the heart and soul of their communities," the organizations noted. This year's VIndies winners are:
Animated
Book Club Bar, New York, N.Y.: Book Club Bar
Around the store
White Whale Bookstore, Pittsburgh, Pa.: We Have Named the Whale!
Ernest & Hadley Booksellers, Tuscaloosa, Ala.: Welcome In!
Comedy/musical
Bronx Bound Books in Bronx, N.Y.: Well-Read Bronx Woman
Scuppernong Books, Greensboro, N.C.: The Book
Community work
East City Bookshop, Washington, D.C.: Book Recs for Other Small Businesses on Capitol Hill
Rohi's Readery, West Palm Beach, Fla.: The words are felt always in the walls here
Drama
City Books, Pittsburgh, Pa.: Audio IS Reading
Underground Books, Carrollton, Ga.: Shire, the Magic of Reading
Staff picks & book recs
BookTowne, Manasquan, N.J.: Hidden Treats
RVA Book Bar, Richmond, Va.: Rediscovering Slept-on Authors
Trending sounds
Park Books and LitColLab, Severna Park, Md.: You'll Be Back
Quail Ridge Books, Raleigh, N.C.: All I Wanna Do Is Read a Book Today
The event was hosted by Penguin Random House rep Michael Triebwasser. With the exception of the Animated category, which only received one nomination, two winners were selected for each VIndie category--one each from SIBA and NAIBA territories. Winners and finalist videos can all be viewed at New Voices New Rooms.
Of the more than 120 videos nominated for this year's VIndies, 36 were chosen as finalists. The winners were selected by a panel of members of the book industry. As each category was awarded, booksellers from the winning stores came up to the virtual stage to talk about the inspiration for their videos, and why they felt the video was an important tool for their stores. "Inspiration" became the theme of the event, as fellow booksellers in the audience shared ideas and takeaways for their own stores.