A massive lake effect storm buried parts of the Buffalo, N.Y., area under more than six feet of snow over the weekend, and indie booksellers are still digging out. Among the bookstores checking in on social media: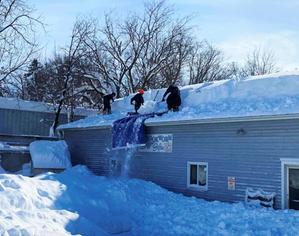 The Bookworm & BW Gifts, Buffalo: "So this is how it gets done: family and ingenuity. (Yes everyone is safe and sound back on the ground) If you know you know, WWPD is the Heaton motto! Thanks to kids and grandkids the load on the roof is lighter and minds can rest easy. More cleanup tomorrow so we can open on Monday."
Fitz Books and Waffles, Buffalo: "We're here if you need your FITZ fix. Books, waffles, coffee and more in downtown Buffalo!" And later: "Upon looking out the window, we determined that we should close today, in the interests of all parties. See you on Monday!"
The Little Book Store, Watertown: "Snow day! Stay at home and read! Shop online."
Dog Ears Bookstore & Café, Buffalo (Friday night): "We're giving it a shot and will try and dig ourselves out tomorrow and be open by 10. We will keep you posted--check back in the morning. In the meantime stay warm, stay safe and be good to your neighbors!" Saturday morning: "Due to travel issues, stock availability and employee sickness, we will have to stay closed for one more day. We apologize and want you all to know how much we appreciate your support. We will do our very best to have some hot coffee brewing, some warm scones and a good book ready for purchase tomorrow. Stay warm, keep safe and read wonderful stories." And Saturday night: "Have to shut her down again tomorrow! Shoveled in but still kinda buried plus there is a big game at 1 tomorrow. Stay home, cheer on your team and let the amazing crews free up the roads for Monday so you can all stop by for a coffee and a scone on your way to work."