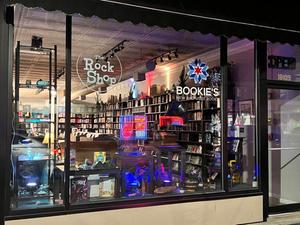 Bookie's New and Used Books, Homewood, Ill., which had announced in September that it would be closing after nearly five years in business due to a rent hike and lack of sales, has had a change of plans. The store reopened yesterday, November 22, in a new location at 18109 Dixie Highway. Patch reported that owner Keith Lewis "found a way to bring it back, while also working alongside a longtime friend."
Lewis partnered with the Rock Shop co-owner Laura Bruni to "inhabit a shared space and inject new life into both shops' fan bases," Patch noted. The reopening came "just three weeks after taking possession of the space, and ahead of Black Friday shopping and the holiday rush."
"I never wanted to close," Lewis said. "It was necessary to close at that location, and this location came up more quickly than I imagined. Just seeing the customers again and being open in time for the holiday season.... That's huge."
Lewis and Bruni, who was one of the early employees when Bookie's opened in 2018, have known each other for some time. Bruni and fiancé Craig Frank had been looking for space for their business, which prides itself on being "all things rock. Guitars, records, rocks, crystals... you get the idea."
"The Rock Shop has been looking for an appropriate space for their ventures for a couple of years," Lewis said. "We have been discussing some kind of joint venture for since I mentioned my desire to find a spot with a smaller footprint and cheaper rent to make reopening more feasible."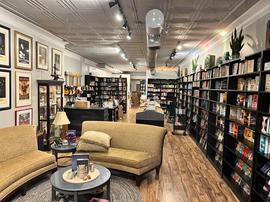 Bruni noted: "Books take up considerable floor space. Fortunately, rocks don't. So we were able to integrate the space nicely, I think."
Lewis agreed: "I think books and records go hand in hand. It just makes sense. People often wished I carried records when I was on Ridge Road. I wasn't interested, really, as books are my passion, but Craig is really into vinyl. And it's a good time for him. I got rid of my records in the mid-'90s. Now I'm buying them up again. A lot of people are rebuilding their collections. Craig still has his."
Stressing that community support will help the reinvigorated Bookie's be successful, Lewis added that local businesses "make the neighborhood so much better. People come to downtown Homewood and check out what kinds of businesses they have. The better and more plentiful the businesses, the more desirable the area. I need people to come shop."