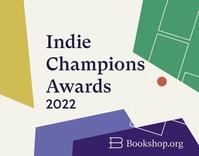 Bookshop.org released shortlists for the inaugural Indie Champions Awards, recognizing the individuals, organizations and publishers that have used the platform to support independent bookshops, the Bookseller reported, adding that the awards "aim to spotlight those who have contributed the platform's success so far." Winners across all categories will be named virtually on January 25, 2023. See the complete Indie Champions Awards shortlist here.
Shortlisted author Dara McAnulty said, "I'm so grateful and honored to be shortlisted as an Indie Champion. Indie booksellers and bookshops are the wizards and castles of an author's world. They magically connect our words to readers and build worlds of beauty and sanctuary within their walls.... It has been a pleasure and a delight to champion Bookshop.org and our much-needed indie bookshops."
Nicole Vanderbilt, managing director of Bookshop.org U.K., commented: "Since our U.K. launch, we've been so impressed by how the publishing industry has embraced our platform and used it in creative ways, as well as concretely benefitting indies by doing so. With these awards, we want to recognize individuals, publishers and platforms that are doing a brilliant job on Bookshop.org and making a difference for indies, and to inspire others to do the same."
---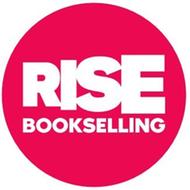 RISE Bookselling is inviting another group of booksellers to experience BolognaBookPlus, to be held March 6-9, 2023. For the inaugural edition of the partnership between RISE Bookselling and BBPlus last March, 10 international booksellers gathered in Bologna (read more about their experience here), taking part in a full program of events, training, networking, bookshop visits, award ceremonies and other activities within the scope of Bologna Children's Book Fair.
The next group of booksellers will be selected from applications received before December 9. RISE Bookselling noted that the program is designed to "help booksellers of all kinds to participate in international training and networking opportunities. We enable booksellers, who are members of one of the network organizations, to join their colleagues and participate in a dedicated program, developed in partnership with the event organizers."
---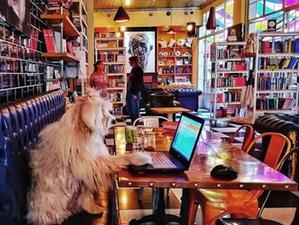 Aaliya's Books in Beirut, Lebanon, "has weathered a lot in its short life. First the 2019 civil protests, then it was damaged in the blast of 2020 and almost closed in 2021 after a fuel shortage made it impossible to keep the lights on. Not to mention Covid-19," the Financial Times reported in a feature on the bookshop and café in the Gemmayzeh district that "has remained, against all odds, a lively cultural hub: hosting book clubs, jazz nights and wine fairs. And, soon, a Lebanese wine bar."
Proprietors Niamh Fleming-Farrell, a bookseller and journalist from Ireland, and William Dobson, an English teacher, came to the city more than 10 years ago. "When I arrived in Lebanon only a few local producers such as Ksara and Chateau Musar were visible," said Fleming-Farrell. "People weren't championing indigenous grapes. But since then the number of wineries has gone from around 10 to more than 40."
Dobson added: "We'll be working with local chefs to showcase Lebanese produce.... We want it to be an extension of what we're doing in the shop, which is creating a space where people's stories can be told."
---
First Christmas book tree sighting of the holiday season: Kennys Bookshop, Galway, Ireland. --Robert Gray