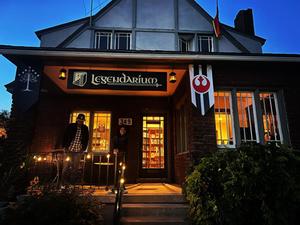 The Legendarium, a science fiction and fantasy bookstore and RPG cafe, has opened in Salt Lake City, Utah, the Salt Lake Tribune reported.
Co-owners and sisters Stephanie and Raelle Blatter opened the store in August. They carry genre fiction with a focus on queer and BIPOC voices and run a mini coffee bar with baked goods, coffee and themed drinks like "Gondor Fog," "Barefoot in the Shire" and "Priory of the Orange Mocha." There is a stack of board games in the cafe that customers can use, and the basement features a "gaming dungeon" for playing tabletop roleplaying games like Dungeons & Dragons.
Stephanie Blatter told the Tribune that science fiction and fantasy were "incredibly important" to both her and her sister when they were growing up, as "they allow for new world building and imagination to just go wild. You can address topics that are important to you internally like mental health or neurodivergence or not fitting in a certain box."
As book banning continues to sweep the country, the Blatters have a banned books book club to "highlight and give homage to books that are banned." Though these titles might get barred from school districts in Utah and other states, the store can showcase them and "provide a space where people can come read and experience those here."
When it comes to filling the store's shelves, the Blatter sisters have been very careful about curation. They've shied away from some popular authors and book series, most notably Harry Potter, in favor of the work of writers like Ursula K. Le Guin.
Stephanie Blatter noted that they've "made a conscious decision to exclude certain well-loved fantasy or science fiction pieces that don't fit with what we want to represent, with what the Legendarium stands for."
Acknowledging that some may find that hypocritical given the store's stance on banned books, Blatter pointed out that people can still easily find those books at Amazon and Barnes & Noble: "If they want something more niche and open-minded, they can find that here."
Blatter added that she and her sister were inspired by Mysterious Galaxy Bookstore in San Diego, Calif., which she described as a "mecca for fans and authors." They particularly liked the shop's inclusive environment and decided to try to create something similar in Utah. So far, the community has responded very well.