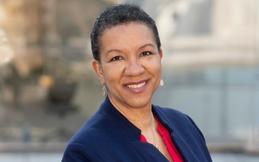 Traci Lester
Effective January 1, Traci Lester is stepping down as executive director of the Center for Fiction, Brooklyn, N.Y., the literary nonprofit that offers a range of programming, reading and writing workshops, fellowships, awards, and the Bookstore and Café and Bar. An interim executive director will be hired while a search for a new executive director is conducted.
Lester joined the Center for Fiction in March of 2021, and worked to "secure and maintain pandemic relief funding that allowed the Center to offer extensive virtual programming and sustain its onsite Bookstore, Writers Studio, and Library," the Center said. "She also oversaw the full reopening of the Center in the Fall of 2021, including returning it to robust in-person public programming along with the opening of all its spaces for readers, writers, and lovers of storytelling."
Board chair Erroll McDonald said, "Traci has brought tremendous expertise and dedication to her role at the Center, contributing a great deal to this important cultural organization. We thank her for these efforts and wish her well in her next endeavors."