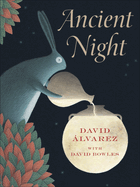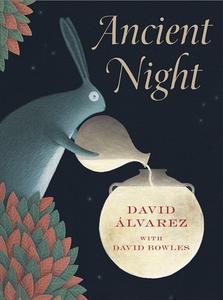 Mexican artist David Álvarez draws on Mesoamerican folkloric traditions to spin an epic yet intimate new creation myth in his first English-language picture book, Ancient Night, accompanied by a narrative poem from Mexican American writer David Bowles (They Call Me Güero).
"At the start of things, the elders say,/ the universe was hushed and still./ The moon alone shone bright and round/ in the star-speckled dark of the sky," says the poem's opening, begging to be read aloud in quiet tones. The reader sees Rabbit seated in profile on the glowing jug of the moon, sipping a luminous liquid against a dark, star-dotted sky. The text goes on to reveal that Rabbit keeps the moon alight by journeying down the trunk of the Great Ceiba, the Mayan world tree that connected the heavens and the underworld, to gather the radiant liquid aguamiel from the heart of "the first and holy maguey." Clever Opossum follows Rabbit to learn why the moon brightens and dims, and he decides he should also have a taste of the aguamiel. The reader sees him crack the moon with the tip of his cane and siphon the nectar into a jug waiting in the grass below. Rabbit quickly discovers the theft and points out that Opossum has stolen all the light from the sky. Opossum regrets his choices immediately and sets out on a journey to make amends by finding a new light source readers will soon recognize.
Álvarez, who usually works in black and white, uses color here but still portrays dramatic tones, as seen in Rabbit's dense fur, the stark beauty of the darkened sky and his knack for directing light and shadow. His striking olive, moss and rust palette highlights natural settings stuffed with lush, layered leaves, soft grass and twining tree trunks. Bowles's free verse translates the story into a gently rocking rhythm. While some aspects of the myth may confuse young readers--and one illustrative detail doesn't quite match the accompanying poem--this picture book will nonetheless be a perfect bedtime read aloud. A note from the creators in the backmatter briefly recounts a few of the stories that inspired them and explains the significance of the characters and settings in the original folktales. Levine Querido will publish Ancient Night in English and simultaneously in Spanish, as Noche Antigua (9781646142545, also $18.99). --Jaclyn Fulwood, youth experience manager, Dayton Metro Library
Shelf Talker: This Mesoamerican-inspired fable borrows from old tales for a larger-than-life yet soothingly illustrated picture book.