More U.K. customers are switching to paperback editions as their budgets tighten in a challenging economy, according to Indie booksellers in the U.K. The Bookseller reported most agree, however, that hardcovers "will endure due to the opportunities presented by special editions and a 'two bites of the cherry' approach to publishing where a hardback is published first, followed by a paperback, usually a year later."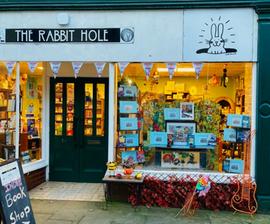 "Many people who are drawn to question whether we have a particular title in will ultimately say they will wait for the paperback, especially if it's by an untested debut author," said Nick Webb, co-owner of the Rabbit Hole in Brigg. "And in the interim, they will very often pick up a copy cheaply at a charity shop or borrow a copy from a friend. All of these demonstrate lost sales to ourselves, the publisher, and ultimately the author."
Wayne Winstone, owner of Winstone's Books in Sherborne, observed: "The price inflation surrounding hardbacks is a concern. If we want to break new talent and encourage customers to take a chance on a new writer I would urge publishers to rethink against this economic backdrop."
Alex Call, founder and owner of Bert's Books in Swindon, added: "We may see a decline [in sales] if r.r.ps continue to rise. The rising costs of hardbacks has seen people switch to paperbacks. It's more about perceived value than a cost-of-living thing though as people seem to prefer buying two or three paperbacks versus one hardback, so spending the same, but getting more for it."
Hazel Broadfoot, Booksellers Association president and owner of Village Books in London, said: "We had several customers in December switch to giving all paperbacks, instead of hardbacks, and we have many book groups with a paperback only rule. In general though, we're still selling plenty of hardbacks--every January I'm surprised by how many hardbacks continue to sell and this year is absolutely no different. It's my belief that books represent extremely good value for money in comparison with almost every other form of entertainment and they can be shared, making them a sustainable choice."
---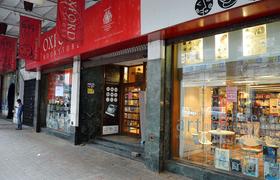 Oxford Bookstore in Kolkata
Priti Paul, director of Apeejay Surrendra Group--which owns India's Oxford Bookstores chain--told Outlook magazine she thinks readers emerging from Covid-19 lockdowns are in "revenge mode now," and "revenge reading" is part of that trend. Among the highlights from the q&a:
Tell us what it feels like to own a bookstore with a century's legacy?
People at one point of time had started writing off bookstores, saying that people are reading online, buying online, and that's going to be the future. That myth has been shattered since the normalization of life after the Covid-19 lockdowns were lifted. The footfall has increased significantly and we sold in the first five months what we used to sell in a year in the pre-pandemic time. So, it feels good to run a bookstore and I can happily give my opinion that bookstores are here to stay....
So, the post-lockdown business is better than usual?
I think people spent so much time online during the lockdown period that they are in revenge mode now. Just like there has emerged revenge tourism and revenge festivals, there is revenge reading--to make up for the losses during the lockdown.
What do you consider the biggest achievement of Oxford Bookstore?
Recently, during my visit to Qatar for the football World Cup, I got an invitation to visit the national library of Qatar. The president of the library had invited me. It's a huge library designed by one of the best architects in the world. When I visited, I realized that what they do at the national library with millions of dollars are all being done in our stores--the range of books, the events around books and the cultural programs--and at a higher frequency than theirs. We are also giving back to society....
---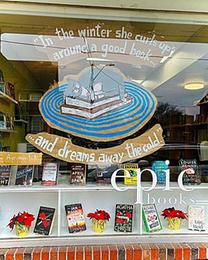 The Canadian Independent Booksellers Association highlighted the storefront window art at Epic Books, Hamilton, Ont., calling it "a real vibe. Who doesn't love to hibernate with a pile of good books?"
Epic Books noted: "We're slowly getting back into the swing of things after our wonderful holiday break. New window done by Joe Ollmann! 'In the winter she curls up around a good book and dreams away the cold.'--Ben Aaronovitch." --Robert Gray