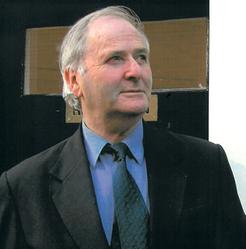 Philip Kogan
Philip Kogan, founder of Kogan Page, as well as former chairman of the Independent Publishers Guild and treasurer of the Publishers Association, died December 24, the Bookseller reported. He was 92. Kogan spent 10 years as a physicist in industrial research before entering the publishing world in 1962, first at Sampson Lowe and then Cornmarket.

In 1967 he established Kogan Page with co-founder Terry Page. In 2006, Kogan moved up to chairman of the company and his daughter, Helen Kogan, became managing director. She said: "He never really used the 'r' word, but when we moved to the new offices in 2013 he had pretty well stopped being actively involved, although [was] always interested in the business."
Shortlisted for in 2022 Academic, Educational and Professional Publisher of the Year at the British Book Awards, Kogan Page had previously won the IPG Digital Publishing Award in 2020, as well as the Academic and Professional Publisher of the Year and International Achievement Award in 2019.
"He was one of the U.K.'s most inspiring specialist publishers and steered Kogan Page superbly through decades of changes and challenges--all the while remaining proudly independent," said IPG CEO Bridget Shine. "Beyond that, he was instrumental in making the IPG what it is today. He was an active member for most of our 60 years, serving as chair from 1975 to 1977. He received the IPG Patrons' Lifetime Achievement Award in 2007 and became a patron himself in 2017. He was always excellent company at IPG conferences and book fairs and was a friend and mentor to countless other independent publishers. We will miss him very much."
PA CEO Dan Conway added: The organization is immensely grateful for the time and expertise [Kogan] dedicated to the role. Philip was a hugely well-respected member of the publishing community and all at the PA, both historical and present, would I am sure join me in sending our best wishes to his family and friends at this time."
The Guardian noted that Kogan "was ferociously bright, a critical thinker who interrogated ideas and staff while always listening to people and occasionally going over their heads.... He remained active even after handing over the reins to Helen and spent much time mentoring younger publishers and working tirelessly for the Independent Publishers Guild, of which he was an active member for 60 years."
At his "standing room only" funeral on January 18, academic publisher and former KP board director Stephen White said that Kogan had "contributed enormously" to the book world, adding: "It's hard to think of a better métier for Philip than publishing. It suited his sociability, his warmth, his creativity, his entrepreneurship, and his friendliness. Only a handful of people have contributed as much as Philip [to publishing]. He was a great publisher, and a great man."