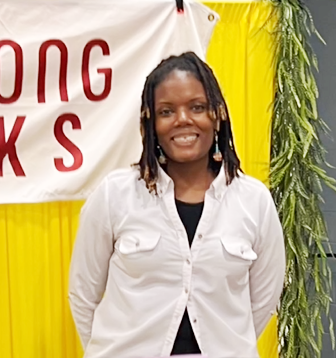 Erica Atkins
Erica Atkins, owner of Birdsong Books, Locust Grove, Ga., was murdered last weekend, WSB-TV reported. The Putnam County Sheriff's Office said deputies recovered her body on Sunday afternoon from Cedar Creek. Romero Johnson, an employee of the bookstore and, according to Atkins's family, a former boyfriend, has been arrested in connection with her death. He is facing charges of kidnapping and murder.
The Atkins family told WSB-TV that Johnson had worked with Atkins over the weekend at a pop-up bookshop, just hours before she was killed.
"I'm really going to miss her," said Jasmine Atkins, her daughter. "Your mother is the first person you look at when you come into this world. The person that's holding you. That first heartbeat you feel other than your own. My mother was everything to me."
Outside Birdsong Books, which Atkins opened about a year ago, people dropped off flowers in her remembrance.
"It was shocking and extremely, extremely painful," said Phillip Robinson, Atkins's brother. He also spoke about her love of reading: "She grew up loving to read, an avid reader. She would spend hours when we were kids reading aloud."
"I just keep thinking about her," said Shanna Amoah, a friend of Atkins. "It just floored me. Basically, it floored me beyond measure. I was just completely devastated.... Erica was a busy woman. She was committed to helping her community. She donated books--donated her time. In fact, she came last year to my summer camp and read to my kids--donated her time there. Erica was just a pillar in our community."
The Henry County Chamber of Commerce posted on Facebook: "We are saddened by the tragic news of Dr. Erica Atkins, owner of Birdsong Books. Her passing is a tremendous loss to the Henry County Chamber of Commerce family and to the business community as a whole. Birdsong Books, owned by Dr. Atkins, was named 2022 Microbusiness of the Year by the Chamber in February. Dr. Atkins was a 2023 appointee to the Convention & Visitors Bureau or Visit Henry County, Ga., board of directors. As a business and community leader and a friend, she will be sorely missed."