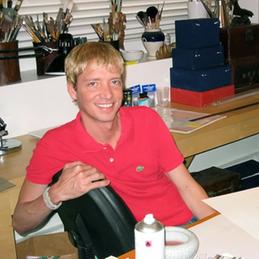 Ian Falconer
Children's book author and illustrator Ian Falconer, whose beloved Olivia book series has been translated into many languages and adapted into an animated TV series, died March 7, NPR reported. He was 63.
Initially created as a Christmas gift in 1996 for his then three-year-old niece Olivia, the first Olivia book was published in 2000. It has sold more than 10 million copies and won numerous awards. He went on to illustrate and write seven sequels, culminating with Olivia the Spy in 2017.
Falconer began illustrating covers for the New Yorker in 1996, producing 30 magazine covers over his career. NPR noted that "it was this work that first caught the eye of Anne Schwartz, then a children's book publisher at Simon & Schuster. In an interview with NPR, Schwartz said she planned to commission Falconer to illustrate another author's book project, but he was more interested in showing her what was then the 100-page draft of Olivia."
"You could tell immediately that this was something really, really special," she said. "I thought to myself, this is unlike anything I've ever seen before. I've just really gotten lucky here."
Falconer studied art history at New York University before focusing on painting at the Parsons School of Design and the Otis Art Institute in Los Angeles. "After incubating his talent as a theater designer with David Hockney, assisting the renowned artist with sets and costumes for Los Angeles Opera productions in the late 1980s and early 1990s, Falconer went on to create set and/or costume designs for top-tier companies around the world, including Théâtre du Châtelet in Paris, New York City Ballet and The Royal Opera," NPR noted.
He continued to seek inspiration for his books from family members, including Two Dogs (2022), about the adventures of a pair of dachshunds, which was inspired by his sister's children.
In a New Yorker tribute, Françoise Mouly wrote: "I met Ian in 1996, in the early days of my tenure as the New Yorker's art editor. My mandate was to refresh the art for what had come to be perceived as a highly respected but somewhat fossilized magazine. I turned to Falconer, who grew up in Ridgefield, Connecticut, and was a longtime fan of the magazine, for help. We spent long hours in the archives, marvelling over the old covers and laughing at the ways artists like Helen Hokinson, Mary Petty, Charles Addams, or William Cotton portrayed the antics of the bourgeoisie during the nineteen-thirties and forties. Falconer was a lover of classical drawing and, through his images, helped bring back the facetiousness and irreverence of the magazine's early days."