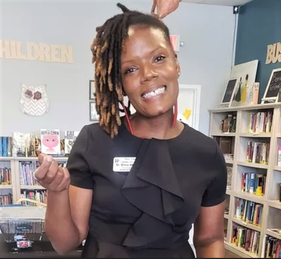 Erica Atkins
In response to the horrible news of the murder last weekend of Erica Atkins, owner of Birdsong Books, Locust Grove, Ga., a GoFundMe campaign has been launched to benefit the family; the Southern Independent Booksellers Alliance is organizing booksellers to mentor Atkins's daughter, Jasmine, who plans to keep the store open; and the Book Industry Charitable Foundation (Binc) is providing support.
The GoFundMe to help Atkins's family was launched by Shanna Amoah and in one day has raised $1,000 toward its goal of $10,000. Amoah wrote in part, "To know Erica was to love her. She was the kindest, sharing, loving, smart, and determined lady. She was a mother, niece, sister, friend and leader. She leaves behind a young son, a daughter, employees and her beloved business. She was a light and will be truly missed by many."
SIBA has been in contact with Atkins's daughter, Jasmine, who plans to keep the store open to honor her mother's legacy. She told SIBA, "My mother started the bookstore because her parents met at a bookstore. She's always had a fascination with books and it was just something that stuck with her. My mother was the smartest woman I know. She wanted to get children to start reading again and put down the phones after the pandemic because she knew that was important."
Jasmine said that her top request is for "mentors who can guide her in the business of bookselling," SIBA wrote. Atlanta-area booksellers especially are encouraged to help and should contact SIBA board member Julia Davis of the Bookworm Bookstore, Powder Springs, Ga., via e-mail.