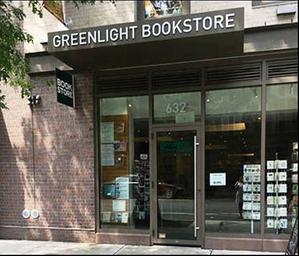 Greenlight Bookstore will be closing its Prospect Lefferts Gardens location at 632 Flatbush Avenue on May 14. Jessica Stockton-Bagnulo, Greenlight's owner and co-founder, announced the impending closure of the store, which opened in 2015, in an e-mail to customers yesterday. She also posted a video on YouTube explaining the decision.
Citing financial challenges since the outbreak of the Covid-19 pandemic, with sales falling and costs remaining high, Stockton-Bagnulo noted: "We have done what we can in terms of short term solutions--implementing new marketing strategies, returning inventory, reducing hours, paring back buying, even getting a small business loan--but it's not enough. I've done a lot of crunching our numbers in recent months to figure out how to return to sustainability, and I've had the chance to talk to some smart bookstore colleagues and small business experts for advice. The result of all of these conversations was the same: for the sustainability of Greenlight as a company, we need to close the Flatbush store."
Greenlight opened its Fort Greene bookstore on Fulton St. in 2009, and added Yours Truly, Brooklyn, a stationery store, next door in 2018. Stockton-Bagnulo noted that "as hard as this is, it's the right thing to do for the company. We can focus our efforts on a single physical location (the Fulton bookstore and stationery store), plus the various projects that surround it (ecommerce, offsite events, BAM and other partnerships) and ultimately return to a sustainable level of profit. My goal and expectation is that Greenlight continue to survive to serve the Brooklyn community for years to come."
The closure means some staff will lose their jobs, and Stockton-Bagnulo is working with the bookstore's union on that process. She asked customers to direct questions about the closure to her rather than the staff, noting that "this is fresh news for them and everyone is still processing, and this closure is neither their decision nor their fault. I don't want to stress our staff even more by having them bear the brunt of what I'm sure will be a lot of strong feelings about this; that's my job."
In the YouTube video, Stockton-Bagnulo stressed that the decision to close the Prospect Lefferts Gardens store isn't about the union: "We had already been working on increasing wages for staff to pay folks something more like a living wage. Unionization isn't something that small businesses need to be afraid of."
She also observed: "I think maybe more than any other kind of business, the closure of a bookstore elicits a particular kind of grief. And it's okay, to sit with that grief for as long as we need to. But I hope this closure can avoid some of the typical, mostly unhelpful narratives about why bookstores and other small businesses close. Because ultimately this is a story about a bookstore finding a way to go on."