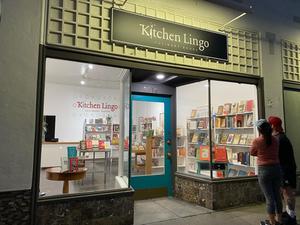 Kitchen Lingo Books, a culinary bookstore with a selection of new and vintage cookbooks, food magazines and other food writing, has opened in Long Beach, Calif., Eater Los Angeles reported.
Owner Matt Miller opened the bookstore in a limited capacity during the first weekend of March. It resides in a 400-square-foot space at 2116 4th St. in a part of Long Beach called Retro Row, and Miller plans to start expanding hours in the coming weeks.
The store's vintage offerings include things like a 1930 copy of the Better Homes and Gardens Cookbook, and he plans to work with the community to create cookbooks filled with "hand-me-down recipes." He'll also launch an event series called A Seat at the Table, which will bring in members of the food and hospitality industry for panel talks and discussions.
Miller has a background as a food writer and has worked in the restaurant industry as both employee and owner. He told Eater that he's hoping to create something like Now Serving, a culinary bookstore that opened in L.A.'s Chinatown in 2017.