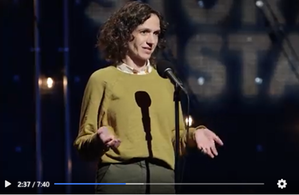 In the most recent episode of World Channel's Stories from the Stage, Hannah Harlow shares the captivating tale of her journey to becoming the owner of the Book Shop of Beverly Farms, Beverly, Mass. As the bookstore put it in a Facebook post: "Hey, it's Hannah on the TV!"
Boston PBS channel GBH shared the clip, noting: "It took a long, long time for Hannah Harlow to muster up the courage and finances to buy up the beloved Book Shop of Beverly Farms. When she finally did, the pandemic hit within a couple weeks and changed everything. Two years later, Harlow and the little yellow indie bookstore with the green awning in Boston's North Shore are still standing--helping so many in her community get through their grief, their anxiety, and their boredom along the way."
And we can't help but mention that at one point in the episode, Harlow recalled that "one glorious September morning," she discovered the bookstore was for sale in her daily reading of Shelf Awareness.