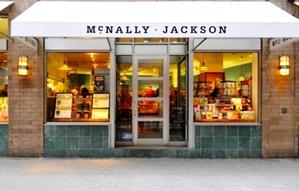 McNally Jackson's current space.
The original, flagship McNally Jackson store in SoHo in New York City is moving "a few blocks west down Prince Street, from 52 to 134," the store noted on its website. The new location is "larger and sturdier" than the current store, whose last day in business is next Tuesday, March 21.
Owner Sarah McNally opened the Prince Street store in 2004 as McNally Robinson, part of the Canadian chain that her parents founded. In 2008, the store became independent and was renamed McNally Jackson. In 2019, McNally came close to moving the store after a substantial rent increase.
Over the years, McNally Jackson has added branches in Rockefeller Center, the Seaport, Williamsburg and downtown Brooklyn. It also has a shop at LaGuardia Airport with Hudson Group as well as two Goods for the Study writing and stationery stores in the West Village and Nolita, and McNally Jackson at the Shed (545 W. 30th St.), which features books related to the Shed's arts programming.