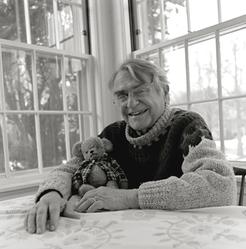 Michael Gruenbaum
Michael Gruenbaum, the Holocaust survivor who in his 80s wrote the memoir Somewhere There Is Still a Sun (Aladdin), about his experience in the Terezin concentration camp, died of heart failure earlier this week, the Boston Globe reported. He was 92.
He published Somewhere There Is Still a Sun in 2015, drawing inspiration for the title from a phrase in a letter his mother, Margaret Popper Gruenbaum, wrote after being liberated from Terezin. As a survivor of the Holocaust, he explained in the animated film The Teddy Bear, he felt he had a responsibility to "remember, to tell, and to never forget," and up until the day before his death, Gruenbaum was sharing his experiences and talking about his book via Zoom.
His son Leon Gruenbaum said the resurgence of antisemitism in the United States in recent years motivated his father "to get the book out as much as possible." In the Globe, Michael Gruenbaum wrote: "It behooves all of us to be very much on the alert and make sure that the smallest of such incidents is immediately thwarted and stopped in its tracks."
Born in Prague in 1930, Gruenbaum was sent to the Terezin concentration camp, along with his sister and mother, shortly after his 12th birthday (his father, Karl Gruenbaum, was murdered by the Gestapo in 1941).
Gruenbaum, his sister and his mother survived Terezin, he would recall later in life, thanks to his mother's "persistence and a lot of luck." Four times they were supposed to be sent from Terezin to Auschwitz, and four times Margaret Gruenbaum was able to get them taken off the list.
In the fall of 1944, Margaret had been ordered to make teddy bears that would be given as Christmas gifts to the children of Nazi officers. When her family was once again slated to be sent to Auschwitz, she told her boss that the teddy bear order would not be filled if that happened. Her boss then spoke to a German officer, and the family was allowed to remain.
Gruenbaum and his family returned to Prague after the end of World War II, but rather than live under Soviet rule, his mother took them to Paris and then Cuba before finally emigrating to the U.S. Gruenbaum went on to earn a bachelor's degree from the Massachusetts Institute of Technology and a master's from Yale University, and from 1956 on he lived in Brookline, Mass.
His wife, Thelma Gruenbaum, was also a writer, and interviewed him for her book Nesarim: Child Survivors of Terezin.