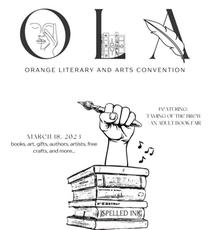 The inaugural Orange Literary and Arts Convention will be held on Saturday in Orange, Va., the Daily Progress reported.
Heather Griffin and Cindy Pagan, co-owners of the bookstore Spelled Ink, have led the charge on organizing the one-day celebration of literature and the arts.
It will take place from noon to 8 p.m. on Saturday in downtown Orange and will include book sales, an arts fair, a weaving workshop and an adult spelling bee at a local brewery. The convention's final event, dubbed Taming of the Brew, will be a "book fair for grown ups." Meant to recapture the joy of school book fairs, it will feature "local authors, a cash bar, music and an '80s theme."
Griffin told the Daily Progress that depending on how the day goes, she would like eventually to turn Olacon into "a huge convention with panels and cosplay and just workshops galore. Maybe it just becomes a whole weekend event where people come from all over the country like other conventions--just get all the art nerds and book nerds out here."
"We wanted something that would recur each year and be a driving force for making Orange a destination," added Pagan.
Spelled Ink sells new and used books along with an assortment of gifts made by local artists and artisans.