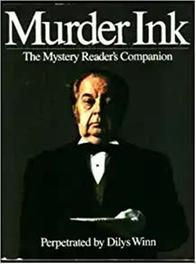 Every good story begins, literally or figuratively, with "imagine...." On the dedication page for Murder Ink: the Mystery Reader's Companion (Workman Publishing, 1977), Dilys Winn wrote, in part: "Imagine, if you will, a Mission oak desk. Now cover it with want lists and order forms and surround it with floor to ceiling bookcases. Behind it seat a slim, graceful woman who loves mysteries so much, she owns a bookstore devoted to them. Her name is Carol Brener and her business life is a series of 'Carol, what should I read next?' and 'Carol, tell me your favorites' and 'Carol, could we swap places?'
"In effect, she and I did swap places. She had written a book then decided she wanted to be a mystery store proprietor. I had been a proprietor, then became eager to do a book. Neither of us could have done it without the other, I think, and as my friendly ghost wafts about her bookstore so her helpful spirit permeates this book."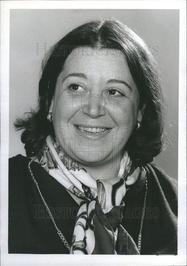 Dilys Winn
I owned a copy of Murder Ink for many years, but it has long vanished from my collection. I was reminded of it and of the bookshop recently when the New York Times published a belated obituary for Winn as part of the newspaper's mea culpa series Overlooked No More, which resurrects the lives of "remarkable people whose deaths, beginning in 1851, went unreported in the Times."
In 1972, Winn was inspired to open a bookstore that would sell only mysteries, but she knew nothing about the book business. Undaunted, she visited bookstores in Manhattan, making lists of titles and publishers, then placed her own orders. She found an empty storefront for rent on West 87th Street, between Broadway and West End Ave., and opened Murder Ink, believed to be the nation's first bookstore devoted entirely to the genre.
"Some books were crammed into wooden bookcases along paisley papered walls," the Times reported. "Others were stacked in piles or scattered about next to jars of pretzels and candy. Flower arrangements hung from the ceiling, cats and dogs lay on the plaid linoleum floor, and presiding over it all was Winn, at her enormous partner's desk."
Though Murder Ink's early days were challenging, the shop quickly became a success. By the end of the year, it had more than doubled its inventory. To thank her friends and supporters, Winn held a St. Valentine's Day Massacre-themed party in the parking garage next door with a menu that included Bloody Marys and a cake adorned with a handgun, which would become the store's trademark.
Ultimately, she enjoyed hosting events so much that she sold the bookstore to Brener in 1975 and began holding Sunday afternoon mystery talks at the Steinway Concert Hall on the Upper West Side featuring mystery writers, editors and other guest speakers.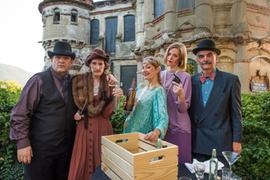 Mystery Weekend at Mohonk Mountain House
In 1977, Winn partnered with Brener and Carolyn Fiske, director of development at Mohonk Mountain House in New Paltz, N.Y., to mastermind an immersive whodunit, held in the dead of winter, that attracted 250 guests, including Stephen King and Isaac Asimov. By 1982, however, Winn was ready to move on, and turned the venture over to author Donald Westlake and his wife, Abigail. The Mohonk Mystery Weekend, now produced by Murder Café, is currently in its 47th year.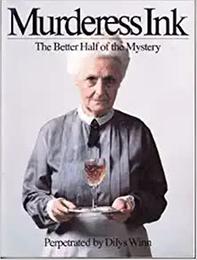 As she was doing all this, Winn continued working on her book. Published in 1977, Murder Ink included "offbeat essays by established figures and Winn herself (under various nom de plumes), along with character studies, photographs, quizzes and even a guide to 'terrible edibles' one might avoid--or seek, depending on the motive," the Times noted. In 1978, the Mystery Writers of America gave her an Edgar Award, and the next year she published a sequel, Murderess Ink: The Better Half of the Mystery.
In the Overlooked obit, there are more details about Winn's complicated later life (no tidy endings here). She did, however, open Miss Marple's Parlour mystery bookshop in Key West, Fla., during the 1990s. And the Independent Mystery Booksellers Association established a Dilys Award in 1992, presented annually to the mystery title its member booksellers most enjoyed selling. It was discontinued after 2014.
My connections to Murder Ink bookshop are relatively minor, but reading Winn's obit made me realize they still resonate. In the mid-1980s, I fancied myself an emerging mystery writer, and began publishing what would eventually become about 20 short stories in Alfred Hitchcock's Mystery Magazine. I joined the Mystery Writers of America. I often ordered books from Murder Ink, including, of course, Murder Ink. I think the owner at the time even had a small newsletter I subscribed to, but that might be a false clue planted by suspect memory.
I didn't have a chance visit the bookshop itself until the late 1990s, when one of our good friends bought an apartment in the building above what was destined to be Murder Ink's final storefront, near the corner of Broadway and 92nd St. The business had gone through several owners at that point, but still retained its aura for me.
In 2006, Murder Ink and its younger sister store, Ivy's Books and Curiosities, closed. The Times reported that owner Jay Pearsall had posted a sign in the window announcing December 31 as the final day. "We've been having a hard time keeping up," he said.
After its closure, Murder Ink's completely altered last storefront did feel haunted whenever I walked by. And today I find myself thinking about Dilys Winn, who long ago imagined herself as a friendly ghost wafting about her friend's bookstore.