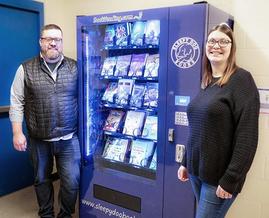 Sleepy Dog Books in Mount Pleasant, Mich., has set up book vending machines in the halls of two local elementary schools, Second Wave Media reported.
The vending machines, located in Fancher and Mary McGuire Elementary schools, contain more than 300 titles and are part of the school's Positive Behavior Intervention and Support program. Rather than take cash, the vending machines take book tokens, which students can earn for "making positive choices in their learning environment."
Jenny and Riley Justis, owners of Sleepy Dog Books, opened the bookstore in 2022. Jenny Justis told Second Wave: "By providing the machines and partnering with the District to bring the latest in book titles to the halls of these schools, we are hopeful to drive student interest in reading and passion for physical books."