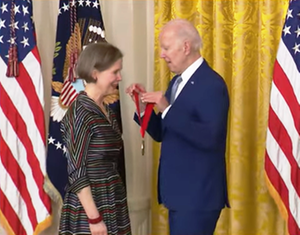 President Biden presents the medal to Ann Patchett.
Yesterday, 12 writers, historians, educators, and activists were honored at the White House by President Biden, who presented them with National Humanities Medals. The 2021 National Medals of Arts were also presented at the same ceremony, marking Biden's first batch of awards for the arts and humanities due to delays prompted by the Covid-19 pandemic.
The National Humanities Medal honors an individual or organization whose work has deepened the nation's understanding of the human experience, broadened citizens' engagement with history or literature, or helped preserve and expand Americans' access to cultural resources.
"The National Humanities Medal recipients have enriched our world through writing that moves and inspires us; scholarship that enlarges our understanding of the past; and through their dedication to educating, informing, and giving voice to communities and histories often overlooked," said National Endowment for the Humanities chair Shelly C. Lowe (Navajo). "I am proud to join President Biden in recognizing these distinguished leaders for their outstanding contributions to our nation's cultural life."
Among the writers receiving National Humanities Medals were:
Richard Blanco, poet and author, whose "powerful storytelling challenges the boundaries of culture, gender, and class while celebrating the promise of our Nation's highest ideals."
Walter Isaacson, author, whose "work, words, and wisdom bridge divides between science and the humanities and between opposing philosophies, elevating discourse and our understanding of who we are as a Nation."
Earl Lewis, social historian and academic leader, who "has made vital contributions to the field of Black history, educating generations of students, while also being a leading voice for greater diversity in academia and our Nation."
Ann Patchett, author and bookseller, who through "her bestselling novels and essays, and her bookstore, readers from around the world see themselves in the pages of [her] books that take people to places of the heart and feed the imagination of our Nation."
Amy Tan, author, whose "writing makes sense of the present through the past and adds ground-breaking narrative to the diverse sweep of American life and literature."
Tara Westover, author, whose "memoirs of family, religion, and the transformative power of education, has moved millions of readers and served as a powerful example of how the humanities can set people--and a Nation--free."
Colson Whitehead, author, whose "celebrated novels make real the African American journey through our Nation's continued reckoning with the original sin of slavery and our ongoing march toward a more perfect Union."