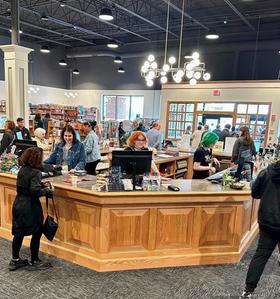 Schuler Books celebrated the grand opening of its West Bloomfield, Mich., store last Saturday after what the bookseller described as "several strong soft opening days."
Located in the Gateway Center at 7260 Orchard Lake Road, the 19,000-square-foot general-interest bookstore carries all genres, features children's and used book sections, seats up to 200 for author events, and also carries stationery, gifts, games, puzzles, and toys. The store is set to host a full schedule of both virtual and in-person events.
When Schuler Books announced plans for the expansion last year, Bill Fehsenfeld, co-owner with his wife, Cecile Fehsenfeld, said, "We've long dreamed of having a bookstore in the metro-Detroit area and spent a lot of time looking for a spot that was just right. We think West Bloomfield is the perfect location."
Grand opening day featured a cappuccino cart serving up complimentary beverages, food from local bakeries and restaurants, free gifts, and a chance to win book-filled totes and new branded items. Author Aya Khalil led a storytime for the store's inaugural event.
Schuler Books noted that "excitement was high as the community has been without a bookstore for eight years," and the new store "was as busy as the busiest holiday shopping days and it was wonderful to welcome and meet so many new customers. Countless hours of hard work and prep by everyone on the Schuler Books team... went into making the store ready. Our owners and staff members from every store were on hand to assist customers and enjoy the celebration."
The Fehsenfelds founded Schuler Books in 1982. It also has locations in Grand Rapids, Okemos, and Ann Arbor.