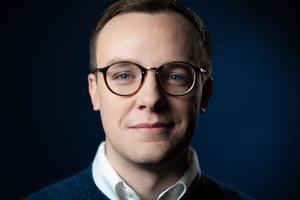 photo: Carina Teoh
Chasten Glezman Buttigieg was born and raised in Traverse City, Mich. A thespian, two-time 4-H blue-ribbon winner, and decorated member of the high school bowling team, he received his Bachelor's degree in theater and global studies from the University of Wisconsin-Eau Claire and his Master's in education from DePaul University. He is married to former Democratic presidential candidate and current Secretary of Transportation Pete Buttigieg. They live with their twins and two rescue dogs in Northern Michigan. I Have Something to Tell You: For Young Adults (Atheneum, $18.99) is adapted from his adult memoir.
Handsell readers your book in 25 words or less:
A book for anyone (but especially young people) who has ever asked, "Do I belong?" This is my way of saying, "Yes, you do!"
On your nightstand now:
Too many! I have a terrible (good?) habit of reading multiple books at once. I just picked up Imogen, Obviously by Becky Albertalli. I have also been enjoying The Best Strangers in the World by Ari Shapiro. As new parents with limited time, my husband and I have been discussing Four Thousand Weeks by Oliver Burkeman, which has helped us think about how we spend our time together as a family and as professionals. I also received an advance copy of Brandon Wolf's memoir, A Place for Us, which I am excited to dig into.
Book you've faked reading:
A Portrait of the Artist as a Young Man by James Joyce. Early in our relationship, when I was trying to impress my now husband (who loves Joyce), I tried to read it but never made it very far.
Book you're an evangelist for:
A Child's Christmas in Wales by Dylan Thomas is a yearly tradition in our house. We listen to the audio recording every Christmas Eve before we go to bed.
Book you're looking forward to:
Congratulations, the Best Is Over! I'm such a fan of R. Eric Thomas. His book, Here for It, was spectacular on audiobook when I was driving across the country. He's a gifted storyteller, and his reading makes the audiobook even better. His writing is both touching and laugh-out-loud funny.
Book you hid from your parents:
Too many! I used to get in trouble for reading past my bedtime. I'd use a flashlight under my covers so my parents wouldn't see the light under my bedroom door. Sometimes they would tell me I'd done enough reading for one day and that I needed to go outside and get my hands dirty.
Book that changed your life:
The play Angels in America by Tony Kushner changed so much for me as a recently out-of-the-closet college student, especially embracing and forging through queer trauma, and the beautiful burdens one endures in love. I even played Louis in our college production of Millennium Approaches.
Favorite line from a book:
Right now, it's "Goodnight stars/ Goodnight air/ Goodnight noises everywhere" from Goodnight Moon by Margaret Wise Brown because that means it's finally time for some rest amidst the chaos that is parenting twin toddlers.
Thing you love most about your book:
There's something for everyone. I hope that readers find the story inspiring as well as insightful. It's a great resource for teachers, parents, and anyone who loves or guides any student or young person questioning where they fit in. I hope that my story encourages readers to lean into what makes them unique.